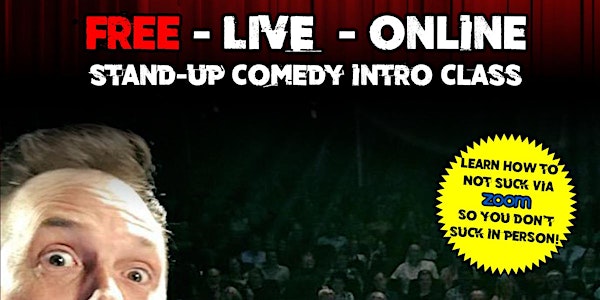 SF Comedy College In person/Online May Free Intro to Stand Up Comedy
In-Person and Online Intro to stand-up comedy writing, performing, classes, and networking offered by the San Francisco Comedy College!
By San Francisco Comedy College
Date and time
Wednesday, May 31 · 6 - 8pm PDT
About this event
If you ever thought you were funny, you were right! This Free Introductory Workshop explains exactly what we mean. Being "funny" is not a special ability of gifted people; it's an easy-to-learn skill that anyone can learn.
This workshop introduces you to all that the SFCC offers in the subsequent 6-week Stand-Up Beginner Class. You will be given free comedy theory and a proven formula that illustrates the structure of all comedy spoken, written, filmed, or displayed in silent films. Bring your questions, your skepticism, and your willingness to learn!! This interactive presentation is fun, funny, and informative. Where else can you go to receive comedy instruction, ask a bunch of questions and meet some odd people for one low price of nothing?
This free workshop is limited to 16 In-person (868 Kearny in San Francisco) 14 online persons via Zoom.
Ticket cutoff is NOON on the day of!
About the organizer
"Make the world a funnier place, one comedian at a time."

Since 1999, the San Francisco Comedy College has assisted CEO's, VP's, speakers, trainers, team leaders, comedians and other amazing people from all walks of life in reaching their comedic potential and enhancing their interpersonal relationships. 

In addition to being the most attended stand-up comedy school in America, we pride ourselves in our effective team building, communication and creativity seminars designed for the corporate environment. Our students are CEOs, open micers, project managers, middle acts, sales managers, headliners, housewives and Mr. Moms, to name a few. Becoming adept at stand-up comedy takes time and the SFCC provides an accelerated real-world environment in which to grow. The SF Comedy College provides no particular mold for what is funny, which is why none of our students sound the same. Each student finds and defines his or her own comedic voice in our classes.

We are proud of our proven track record. All classes come with a money-back guarantee, and we encourage you to ask working comedy professionals about us. Many of our clients have studied with us since our inception and continue to refine their comedic perspectives as we work together to make their humor more personal and their comedy or corporate careers more fulfilling. We make no exaggerated claims as to what we offer which is why we offer free introductory classes each month. Your success is defined by you and will depend upon your own commitment. All we do is offer the best comedy network in the Bay Area and access to the most competent comedy professionals to help accelerate your growth.

The San Francisco Comedy College is run by students, professional comedians and show producers with the express purpose of creating exceptional funny people and bringing more humor to all corners of the earth. The staff of the SF Comedy College offers over 50 years of stand-up, improvisation, public speaking and corporate experience. We challenge you to find a comedy school more committed to making you a funnier person.