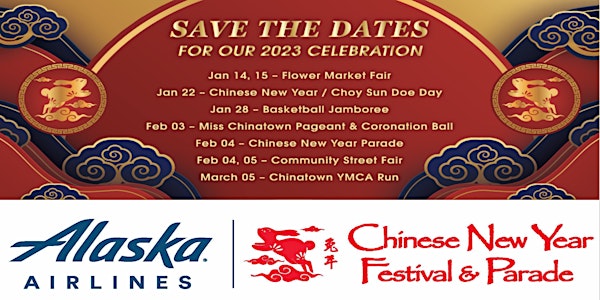 SF Chinese New Year Parade 2023 - Section A1 Bleachers
SF Chinese New Year Parade is excited to celebrate the Year of the Rabbit with everyone.
When and where
Location
CNYP 2023 - Section A1 Bleachers 808 Kearny Street San Francisco, CA 94108
About this event

Named one of the Top Ten Parades in the World by International Festivals & Events Association, the San Francisco Chinese New Year Parade is one of the few remaining night illuminated Parades in North America and the biggest parade celebrating the Lunar New Year outside of Asia. Started in the 1860's by the Chinese in San Francisco as a means to educate the community about their culture, the Parade and Festival have grown to be the largest celebration of Asian culture outside of Asia. Since 1958, the parade has been under the direction of the Chinese Chamber of Commerce.
Over 100 units will participate in the SF Chinese New Year Parade. A San Francisco tradition since just after the Gold Rush, the parade continues to delight and entertain the many hundreds of thousands of people who come to watch it on the street. The SF Chinese New Year Parade will be held on Saturday, February 4, 2023. Nowhere in the world will you see a Lunar New Year parade with more gorgeous floats, elaborate costumes, ferocious lions, exploding firecrackers, and of course the newly crowned Miss Chinatown U.S.A. and her court. A crowd favorite will be the spectacular 288' Golden Dragon ("Gum Lung"). It takes a team of over 180 men and women from the martial arts group, White Crane, to carry the Golden Dragon through the streets of San Francisco. This year's SF Chinese New Year Parade promises to warm your heart and electrify your senses, come rain or stars.
Please Note: This is a non-smoking event.
For more information, please visit the Alaska Airlines Chinese New Year Parade & Festival Official Website.
  ~~~~~~~~~~ Frequently Asked Questions ~~~~~~~~~~
PLEASE NOTE COVID PROTOCOLS: Based on the current guidance by the city and county of San Francisco, attendees are NOT required to show proof of vaccination OR a negative COVID-19 test. Should the guidance change, we will follow the requirements of the city and county of San Francisco.
When is the Chinese New Year Parade? The SF Chinese New Year Parade, celebrating the Year of the Rabbit, will be on Saturday, February 4, 2023 at 5:15 PM, stepping off at Second and Market Streets. It is a free event for all to attend but tickets must be purchased to sit in the bleacher sections.
Is the parade going to be cancelled if it rains? No, the parade will not be cancelled if it rains.
How long is the parade? The parade is approximately 1.3mi. in length and last about 2-1/2 hours from start to finish. 
Is the parade free to attend? The parade is a free event for all to attend but we highly recommend you to purchase a bleacher ticket. 
Where can I buy tickets for Union Square? For the 2023 Parade, we will be selling a limited number of seats to our Union Square bleacher section.
How can one participate in the Chinese New Year Parade? If your organization is interested in participating in the parade, please read the rules and regulations and fill out the parade application posted HERE.
Where is the best place to view the parade and what time should we arrive? Whether you wish to choose your favorite lucky spot along the parade route or purchase a bleacher seat ticket, the entire parade route is an excellent place to view the parade. For our bleacher ticket holders, all of our parade units are asked to perform in front of our bleacher seat areas so we recommend that you purchase one of our coveted bleacher seat tickets to view the parade. If you have bleacher seat tickets, you will want to check where your bleacher locations are and give yourself plenty of time to arrive earlier due to street closures and large crowds.  If you decide to watch the parade along the route, behind the barricades, it does get more crowded as you get closer to Chinatown and also as it nears the starting time of the parade so please plan accordingly.
What is the best way to get to the parade? We strongly suggest everyone take public transportation or ride share. If you wish to drive, there are some parking options available in the area as well.
Where are the portables restrooms? Portables will be placed throughout the parade route typically close to the bleacher areas.
~~~~~~~~~~ Wheelchair Seating ~~~~~~~~~~
Are there Wheelchair Accessible Seating Locations? There will be designated wheelchair sections within our bleacher seat areas where a disabled person may sit in their wheelchair to watch the parade. The disabled person in their wheelchair does not require a bleacher seat ticket, however anyone accompanying them will be required to purchase their own bleacher seat ticket to sit in the designated area.  
~~~~~~~~~~ Bleacher Seating Tickets ~~~~~~~~~~
How do I purchase bleacher seats and what do they include? We have partnered with Eventbrite to provide the convenience of digital tickets to our attendees. The cost is $41.00 ~ $70.00 per ticket plus additional fees. Tickets will be e-mailed to you or available within your Eventbrite App from your mobile device or computer. Bleacher seat tickets entitle you to a seat within your specified bleacher seat location. We ask that the first row be reserved for people who may have difficulty with climbing up the stairs to higher rows or for people accompanying disabled people in wheelchairs. Seats are provided on a first come, first served basis and does not include parking, merchandise, snacks, or shopping discounts. Eventbrite is our official ticket distribution vendor, please be aware of tickets that are being sold through other means. (All ticket sales are final and are non-refundable)
Do I need to purchase a bleacher ticket for my child? Children 2 and under are free but must be accompanied by an adult bleacher ticket holder.
Where are the Bleachers located? Section A1 is located at Kearny Street (between Washington & Jackson Streets) Section B is located at Kearny Street (between California & Sacramento Streets) Section C is located at Post St. (between Grant Ave and Kearny Streets) Section E is located at Geary St. (between Powell and Stockton Streets). The map at the bottom, shows the location of bleacher seating and crossing points through the parade route. The crossing areas can be used to safely cross the parade route but must be kept clear for emergency personnel. Please do not stand in these areas to watch the parade. In order to maintain the flow of the parade, Local law enforcement and parade personnel will instruct guests when it will be safe to cross over. Please follow their instructions.
Is there assigned seating? Every bleacher ticket will have an assigned location and you may sit anywhere you like in your assigned location. Due to the early street closures by law enforcement and the forming crowds, we recommend you to arrive early to check in and be seated by 5 pm. You will be able to check in at this time or you're early, you may want to walk around nearby shops to do a little shopping or grab something to drink or eat. Important: Your receipt will not permit you to sit in the bleachers, you must present your Eventbrite ticket at a Check-In station and you will be given a collectible badge to display while you sit within the bleacher areas.
Can I get a refund? All ticket sales are final, we do not issue refunds.
~~~~~~~~~~ Prohibited Items ~~~~~~~~~~
What items are prohibited at the parade? This is a public event and we ask that you obey all local laws and regulations in regard to items that cannot be brought in public, e.g. no weapons, firearms, explosives, drones, etc. In consideration of others. we also ask that no coolers, pets, selfie-sticks, or camera tripods are allowed in the bleacher sections.
For further questions, please contact the Parade Office @ (415) 889-8823 or info@chineseparade.com.