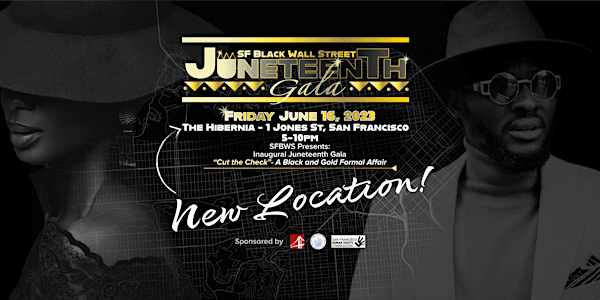 SF Black Wall Street Inaugural Juneteenth Gala
SF Black Wall Street Presents: Inaugural Juneteenth Gala, Friday June 16, 2023, 5pm-10pm
Date and time
Friday, June 16 · 5 - 11pm PDT
Location
The Hibernia 1 Jones Street San Francisco, CA 94102
About this event
THE JUNETEENTH GALA VENUE HAS CHANGED TO HIBERNIA BANK, 1 JONES STREET, SAN FRANCISCO, CA.
In efforts to make our first Juneteenth Gala more inclusive and for community members, the event will now be FREE!! YES, TICKETS TO THE GALA ARE NOW FREE.
Here is what to expect:
PAID TICKETS: If you paid for tickets, your funds will be reimbursed to your account electronically by no later than Friday, June 9th. YOU WILL NOT LOSE YOUR TICKETS, they amount you paid will just be refunded. You will also receive a phone call from one of our team members to confirm your number of tickets, meal options, and other details.
COMPLIMENTARY TICKETS: If you registered for the gala using the complimentary ticket code, YOU WILL NOT LOSE YOUR TICKETS. You will receive a phone call this week from one of our team members to confirm your attendance, name of guests, meal options, and other details.
CORPORTATE TABLES: If you purchased a table as a corporate sponsor (business, community partner, agency), your donation will NOT be refunded. You will receive a phone call from one of our team members to confirm your attendance, names of guests, meal options, and other details.
WAITLIST: SFBWS will confirm the number of additional gala tickets/tables available and contact waitlist starting on Monday Jun 5, 2023.
IMPORTANT REMINDERS
WE ARE CELEBRATING BLACK EXCELLENCE at the gala and we expect our guest to embody it. No one from SF Black Wall Street will be able to hook you up or slide you into the event without a ticket, ID, or being in dress code. Please do not be turned away at the door because you cannot follow directions.
All event guests must be 18 and older- no children allowed. All 21 and older guests with a valid ID will be provided a wristband in order to purchase alcoholic drinks at the bar.
You must bring a valid ID matching the name on the gala ticket to enter. Tickets are non-transferable. If you are unable to attend the gala and would like to surrender your ticket, please contact sfblackwallstreet@gmail.com.
Dress Code is Strictly Enforced. You must wear Black and Gold formal dress attire to the gala. No jeans, shorts, sweatsuits, sports gear, or colors outside of our requested theme will be allowed and ABSOLUTELY NO SNEAKERS.
VALET PARKING is available for the first 150 guests who arrive. We strongly encourage guests to use LYFT, Uber, or arrive early.
About Juneteenth Gala
San Francisco Black Wall Street is proud to invite you to the inaugural citywide Juneteenth Gala! This event takes place on Friday, June 16, 2023, from 5pm-10pm, at HIBERNIA BANK in San Francisco. This year's gala theme is "Cut the Check", a call for economic justice and reparations for San Francisco's Black community.
The Juneteenth Gala will feature amazing food by local Black food entrepreneurs, special guest speakers and an awards show. All guests will have access to our luxury lounge with cash bars, and enjoy live musical performances by DJ Will Stokes, and R&B legends Lenny Williams and Donell Jones.
About SF Black Wall Street
San Francisco Black Wall Street was founded in June 2020 by seven Black San Francisco natives in response to the devastating impact of COVID-19 and systemic racism on Black business, homeownership, and cultural space. We are a network of community servants, professionals, and cultural influencers committed to preserving San Francisco's unique culture, while expanding equitable opportunities for Black San Franciscans to build wealth and stake in our city. Our organization has assisted more than 100 Black entrepreneurs, hosted historic community events, and advocated for investments in our community.