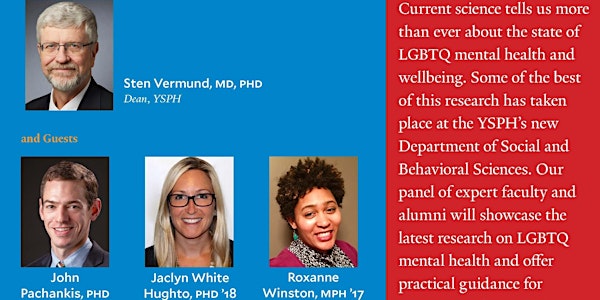 SF: Advances in the Science of LGBTQ Mental Health
Description
Yale School of Public Health (YSPH) and Yale GALA invite you to a special evening to learn about NEW DIRECTIONS for the Yale School of Public Health with a focus on:
Advances in the Science of LGBTQ Mental Health

Sten Vermund, MD, PhD
Anna M. R. Lauder Professor of Public Health
Dean, Yale School of Public Health

and guests

John Pachankis, PhD, Associate Professor, YSPH
Roxanne Winston, MPH '17, ESTEEM Project Coordinator, YSPH
Jaclyn White Hughto, PhD '18, Investigator in Epidemiology, Brown University School of Public Health

Current science tells us more than ever about the state of LGBTQ mental health and wellbeing. Some of the best research has taken place at the Yale School of Public Health's new Department of Social and Behavioral Sciences. Our panel of expert faculty and alumni will showcase the latest research on LGBTQ mental health and offers practical guidance for supporting the well-being of our LGBTQ selves, loved ones, and communities.

SPONSORED BY THE AYA REDPATH SPEAKERS PROGRAM

SEATING IS LIMITED; RESERVATIONS ARE ON A FIRST COME FIRST SERVED BASIS

Bios:

John Pachankis, PhD studies the mental health of lesbian, gay, bisexual, and transgender (LGBT) individuals. His research specifically seeks to identify the psychological and social influences that might explain LGBT individuals' disproportionate experiences with several adverse mental health outcomes, like depression and substance abuse. He uses social epidemiological, experimental, and mixed methods approaches to conduct this research. Drawing on his background as a clinical psychologist, his ultimate goal is to translate the results of these studies into psychosocial interventions to improve the health of the LGBT community. You can learn more about his research at esteem.yale.edu
Roxanne Winston '17 MPH, is the Project Coordinator for the ESTEEM Program in New York City. In this role, she coordinates ESTEEM's cognitive behavioral treatment study for young adult gay and bisexual men with major depressive, anxiety, and/or substance use disorders. Recently completing her MPH in Social and Behavioral Sciences from the Yale School of Public Health, Roxanne Winston is a passionate public health practitioner. Her research focuses on health outcomes for gender and sexual minorities, with a particular focus on health experiences of transmasculine and gender non-conforming people. Prior to her graduate studies at Yale, she ran a health program for high schools in the San Francisco Bay Area and worked on global health policies for biomedical technologies and medical patents. As a UC Berkeley alum and former student government president she is an advocate for intersectional and equity-focused public health practice. Outside of work, Roxanne is an active member of her local masters swim team.

Jaclyn M. White Hughto '18 PhD, MPH is a social epidemiologist with expertise in qualitative and quantitative research methods and analysis. Her research aims to [1] document the structural-, interpersonal-, and individual-level factors that contribute to health inequities for sexual and gender minorities and other marginalized populations; and [2] develop and test community-based interventions to improve the health of at-risk communities. Dr. Hughto has co-authored nearly 50 publications and her research has been cited in testimony before state and federal courts to advance the health of gender minorities.

Introduction and Moderation by:
Sten Vermund, MD, PhD
Dean, Anna M.R. Lauder Professor of Public Health, Professor of Pediatrics
Dean Vermund is an infectious disease epidemiologist and a pediatrician who has focused on diseases of low and middle-income countries, and on health disparities in the U.S. His research has focused on health care access, adolescent medicine, prevention of mother-to-child HIV transmission, and reproductive health. Dr. Vermund is a member of the National Academy of Medicine and has authored over 575 papers and chapters, serving on multiple journal editorial boards and on multiple international and U.S. advisory committees. Prior to joining Yale in 2017, Dr. Vermund was the Amos Christie Chair in Global Health and director of the Vanderbilt Institute for Global Health.
Organizer of SF: Advances in the Science of LGBTQ Mental Health
Yale GALA, Inc. is Yale University's Official LGBT Alumni, Student, Faculty, Staff and Friends Group.
Yale GALA is a New York Corporation and a 501(c)3.
 
For more info about Yale GALA, please visit:
To be our friend on Facebook, please visit: