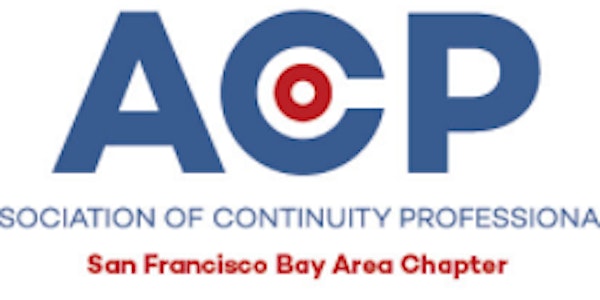 SF ACP October 2017 Membership Forum - Haywired TTX Exercise
Location
USGS
345 Middlefield Road
Menlo Park, CA 94025
Description
October 2017 San Francisco Bay Area Association of Continuity Professionals Membership Forum - Haywired TTX Exercise
As you may be aware, the US Geological Survey is developing an earthquake scenario for the Bay Area which asks: "what if a Magnitude 7.0 earthquake happens on the Hayward Fault starting under Oakland, California, on 4/18/18 at 4:18PM?" Magnitude 7 earthquakes have happened again and again on the Hayward fault, most recently in 1868. The "Wired" emphasizes the question of what will happen to our connectivity -- in the earth, among utility services, in our communities, through technology, and in the digital economy?
Between now and April 18, USGS and its partners will be engaging with key stakeholders to review the scenario, discuss its implications on residents, businesses, and employers, and identify obstacles and opportunities facing the region when the next earthquake hits. As a response and resilience professional in our region, we warmly welcome your participation in this process. This workshop opportunity is designed in conjunction with the Business Recovery Managers Association:
Tuesday, October 10th from 12pm - 3pm
USGS, Menlo Park, CA
Your RSVP guarantees your participation and includes a box lunch - so please RSVP TODAY!
*** Only registered participants will be allowed entry. Registration closes 12pm October 9th ***
Confirmation of your registration along with exact address and driving directions will be sent beginning 10/06/2017
We hope the workshops will help you to identify issues and solutions that will inform and improve your own plans as we learn from you. Some of the most significant impacts in an earthquake are on the built environment, buildings, and property, and on employees - from their health and wellbeing, to ability to get to work, to impacts on their home life. As such, we'll ask you to indicate which is more relevant to you in your role on the RSVP form.
* For those who choose buildings, it would be helpful to review your current inventory and come prepared with some basic information about leased vs. owned space, building types you occupy, and whether you have business occupancy resumption plans in place.
* For those who choose employee/employer issues, it would be helpful to identify where your employees live on a macro basis. Your HR department may be able to provide you a map or some generalized information about this.
For other events and news visit our Chapter's website: San Francisco Bay Area Association of Continuity Professionals