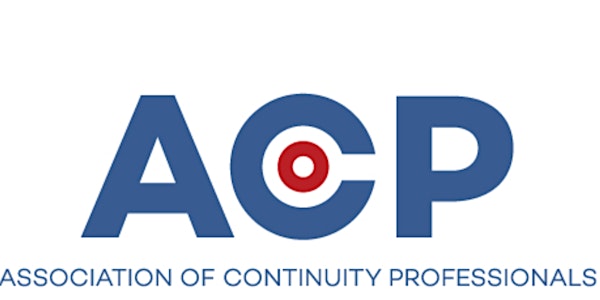 SF ACP July 2017 Membership Meeting
Location
Kaiser Permanente
4460 Hacienda Drive
Bldg A
Pleasanton, CA 94588
Description
July 2017 Monthly Membership Meeting
Come join your fellow continuity professionals for this highly anticipated membership meeting with Julia Kundred, Director at Kaiser Permanente on Tuesday, July 11, 2017! Come join us and participate in the presentation and roundtable on the topic of
"The Power of Your Communication & Messaging"
and maintaining engagement with your audieces whether they be a general audience or sponsors. Gain an understanding of the power and importance of not only what you communicate but also how you communicate. Want to know how to improve engagement? Need to solve the "they aren't listening to me!" dilemma? Come to this month's meeting and find out how!! You don't want to miss this opportunity to engage, learn and network!!
Your RSVP guarantees your place in this event. If a conflict arises please cancel your registration on or before Friday, July 7th to allow your fellow members a chance to participate in this limited seating event.
MEETING AGENDA
11:30 - 12:00pm Networking Brown Bag Lunch
12:00 - 12:15pm Welcome & Introductions
12:15 - 12:30pm Everbridge Presentation
12:30 - 12:45pm Networking Break
1:15 - 2:00pm Keynote Presentation by Julia Kundred on "The Power of Your Communication & Messaging

2:00 - 2:25pm Round Table Discussion
2:25 - 2:30pm Closing Remarks
About our Keynote Speaker - Julia Kundred, Director of Portfolio Engagement & Operations, Kaiser Permanente
Julia Kundred is one of Kaiser Permanente's biggest champions in rallying its employees to become Resiliency Leaders. Julia brings more than 25 years of experience counseling C-suite executives on effective crisis communication strategies to her role leading stakeholder engagement and training for IT resiliency programs.
Since joining the IT Resiliency Team, she has been a key driver in transforming the message on preparedness. Julia and her team follow Kaiser Permanente's innovative and pioneering employee awareness strategy based on Positivity, Persistence, and Passion. Transforming complex procedures into simple, clear, and user-friendly tools has been the cornerstone of her success in gaining program support from employees and leadership.
Julia is a Certified Business Continuity Professional and earned her BA from UC San Diego.
Register today and join the Bay Area's broadest group of industry professionals!
Location: Kaiser Permanente, Pleasanton, CA. Pre-registered attendees only.
For other events and news visit the San Francisco Bay Area Association of Continuity Professionals' website.
SF Bay Area Chapter of ACP sponsored by: Everbridge