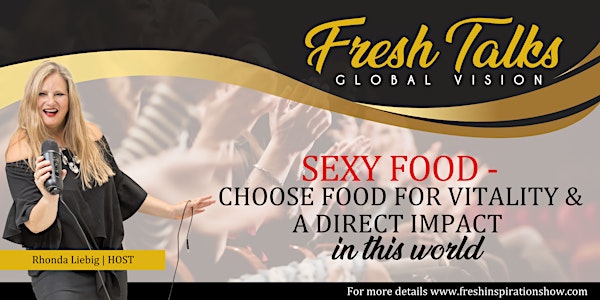 Sexy Food - Choose Food for Vitality & a Direct Impact in this World
Food is The New Sexy - Why Food is Direct Impact to You in this World
About this event
Fresh Talks - Mindset Transformation Entertainment (TM) is a monthly virtual show full of information with different themes each month to entice the mindset adventurer in YOU. Fresh Talks has experts from all over the world that are serving the world globally with their movement. Fresh Talks global movement is #speakerlockingarms as this is represented in each monthly theme throughout the year. You will get to experience expert talks that are from 10 to 17 minutes related with the monthly theme plus an undercurrent voice on new ways of doing things post COVID and stopping the shaming and blaming that we are witnessing out there in the world. .
Grab your complimentary digital ticket and enjoy your front row seat for Mindset Transformation Entertainment (™) directly from your social device as we go LIVE in our private group in Facebook so that you can post comments and be ALL IN with your comments and claiming your fabulous breakthroughs throughout showtime and even after the digital LIVE show..
Once you grab your digital ticket(s) Rhonda Liebig founder and host will send you a personalized email welcoming you into the community and guiding you into your next steps so that you can enjoy your journey with Fresh Talks.
Click and get your ticket and this event will keep getting updated as we get closer to the virtual LIVE date of the show. Rhonda Liebig will also be sending you personalized emails to keep you up to date on Fresh Talks details such as the speakers that are being added for your mindset transformation entertainment (TM), the schedule of the show and also some playful ideas to showcase the vibe that is building along the way before showtime as we start right at 8AM pacific/ 11AM eastern.
Speakers will be added below here and the name of their talk along with the detailed schedule... more information to come
8AM Pacific - Opening Ceremony
more details to come...