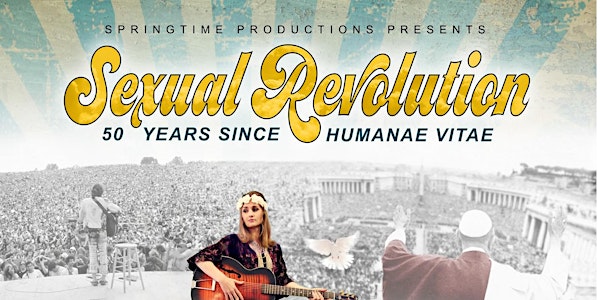 Sexual Revolution Movie San Antonio Premiere
Description
Sexual Revolution: 50 Years Since Humanae Vitae is an exciting and beautifully-made documentary that examines the parallel developments of the Pill and modern Natural Family Planning (NFP). The centerpiece of the film is the dramatic life story of Alana Newman, a talented recording artist who goes from being an activist for feminism and sexual freedom to giving up her promising musical career for life, family, and love. Born through donor conception (via an anonymous sperm donor), Alana's youth is filled with natural curiosity about her biological father. As she gets older, however, this curiosity develops into a sense of abandonment and self-doubt. Still, a spark of that curiosity inspires her on to an arduous search for Truth, Beauty, and Goodness—and her father. Eventually, Alana discovers the treasures of Theology of the Body, Humanae Vitae, and all the riches of the Catholic Church, and comes to realize that she, in fact, may never have been fatherless.

Watch the trailer and read more about it here https://sexualrevolutionmovie.com/
Two screening locations:
Friday, June 22, 7 pm at Holy Trinity Catholic Church, 20523 Huebner Rd, San Antonio, TX 78258
Saturday, June 23, 2 pm at Our Lady of Atonement, 15415 Red Robin Rd, San Antonio, TX 78255
Free / suggested donation ($15) at the door to support the costs.
Doors open 30 minutes before the show. Limited seating. Please arrive early.