Sexual Medicine - Male *CEUs
Actions and Detail Panel
Sexual Medicine - Male *CEUs
Sat, Jun 3, 2017, 8:30 AM – Sun, Jun 4, 2017, 4:30 PM EDT
Description
We are excited to sponsor the fantastic course by Holly Herman, Sexual Medicine - Male!
Course Description:
Most healthcare professionals do not think of Male Health, Wellness and Sexual Function as a specific area of medicine. Often, men can be in their 30's never having seen a doctor. Men suffer hormonal changes without guidance nor explanation of the changes they feel. Men experience changes in sexual function and are often told to take the "blue pill" or Cialis and dismissed. The different phases of a man's life bring specific concerns and often they are ignored or never investigated.
This 2 day course will invite the participant to explore the many areas of male health. The participant will learn about body perception, tests, questionnaires medications, hormones, personal relationships and how they affect male wellness. The participant will gain a solid foundation for the causes and treatments of cardiovascular disease, diabetes, coronary artery disease, Hashimoto's disease, erectile dysfunction, early ejaculation, Peyronie's Disease, Pelvic Pain and other Function and Dysfunction in the Sexual response cycle. The participant will gain advanced manual skills for evaluation and treatment of these dysfunctions and exercise prescriptions that target optimal function.
Course Objectives:
At the end of the course the participant will be able to:
Describe the variations of the male sexual response cycle throughout the lifecycle
Explain ED, PE, PGAD, Peyronie's disease and associated risk factors
Understand the role of hormones and pharmacologic agents in male health
Describe medical tests and questionnaires specifically for men's wellness
Demonstrate 2 manual therapy techniques to improve dysfunction in the pelvic, lumbar, hip, thoracic, abdominal and cervical regions
Describe 2 specific exercise protocols to target optimal strengthening
©2005-2017 Holly Herman
Course Schedule: Male Health, Wellness and Sexual Function
Day 1:
08:30-09:00 Registration
09:00-09:30 Introductions, objectives of the day
09:30-10:30 Male Health Definitions/Lab
10:30-10:45 Break
10:45-11:15 Male Wellness Definitions/Lab
11:15-12:30 Male Sexual Response Cycle/Lab
12:30-01:30 Lunch
01:30-03:30 Musculoskeletal Considerations Lab
03:30-04:30 Hormonal Factors/Diseases/ Medical Tests/Lab
04:30 Finish
Day 2:
08:30-09:00 Summary of Day 1
09:00-10:00 Prostate Issues/ Lab
10:00-10:30 Pharmaceutical Considerations
10:30-10:45 Break
10:45-12:00 Complementary Alternative Therapies/ Lab
12:00-01:00 Lunch
01:00-02:00 Psychological Interventions/ Lab
02:00-04:00 Exercise Prescriptions /Lab
04:00-04:30 Summary/Questions
04:30 Finish
© 2005-2017, Holly Herman
Faculty Bio:
Dr. Hollis Herman DPT PT OCS WCS BCB-PMD IF AASECT PRPC
Holly is in her 40th year as a physical therapist.
In addition to maintaining a full time private practice in Cambridge, MA, she lectures and presents courses world-wide on Pelvic Floor, Women and Men's Health, Pregnancy and Postpartum, Orthopedics, Geriatrics and Sexual Medicine.
Holly is 1 of 2 PT's in the world certified as a Sexuality Counselor by the American Association for Sexual Educators, Counselors and Therapists (AASECT), and one of 4 PT's in the world certified as a Women's Health Sexuality Fellow by the International Society for the Study of Women's Sexual Health (ISSWSH).
She received her Doctorate from MGH Institute of Allied Health and her MS and BS from Boston University. She is an Orthopedic Clinical Specialist (OCS), Women's Health Clinical Specialist (WCS), Certified Biofeedback Therapist (BCB-PMD) and Certified Pelvic Rehabilitation Practitioner (PRPC).
Holly co-founded the Herman & Wallace Pelvic Rehabilitation Institute in 2005 and is on faculty bringing courses to the US, England, Ireland, New Zealand, Chile, Canada, Portugal, Brazil , UAE and Saudi Arabia.
She is the author of numerous peer -reviewed articles, book chapters and is the co-author of the popular book, "How To Raise Children Without Breaking Your Back ", updated and available in December 2015. Holly is co-editor of APTA Geriatric Rehabilitation Journal Vol 32:2 devoted to Optimal Sexual Health and Function in the Aging Population available in 2016.
Holly has been a full- time faculty member of the Northeastern University Physical Therapy Department, Clinical Instructor of the Boston University Physical Therapy Clinic, part- time instructor at Simmons College, guest lecturer at other colleges, universities and hospitals. She serves on the Boards of many Foundations that promote Women's and Men's Health. She is an article reviewer for the Journal of Sexual Medicine, Urologic Nursing and the JOWHPT.
Holly has supported the APTA throughout her entire career as a member, teacher, Education Chairperson and creator of the Gynecological Manual Project which helped raise money for research grants within the Section on Women's Health. She is the recipient of the Elizabeth Noble Award, Saudi Arabian Physical Therapy Association Award and other awards from the NAFC.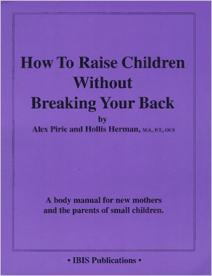 Testimonials:
"What is perfect? Any course taught by Holly Herman" - A.S.

"Holly Herman's Sex
Med class helped me fall in love again with my husband" -N.M.

"Holly takes you
on a journey in her courses with such passion , humor and
clarity , you never want it to end" -C.C.

"Holly's stories and examples are so hilarious you
will remember them forever"- E.V.

" Holly has been a full time clinician for over 40 years, so she has clinical examples for everything that works and what doesn't"- M. E.

" Every course she teaches is the best class I have ever taken" - M. G.

" I love her humor and clinical stories, it makes learning fun"- J.M.

" What are the strengths of Holly's classes? Holly " -B.R.

" Evidence based materials, clinical know how , humor, great interaction , passion in all she does"- S. H.

"Holly Herman is the rock star of the pelvis"- F . H.

FAQs
Who is eligible to take this course?
This is open to pelvic health professionals who are eligible to touch patients in their practices: Pelvic PT/PTAs, MDs, Nurses, Midwives, OTs. If you are not sure if you are eligible for this course, please ask us at info@sherpelvic.com
What are the course hours?
*This will be confirmed. Still subject to change:
Saturday - Registration at 7:30. Course hours: 8:00 am - 5:30 pm (There will be a 1 hour lunch).
Sunday: Regular course hours 8:00 am -4:00 (1 hour lunch)
Will I get CEUs or a certficate?
There will likely be New Hampshire and Massachusetts PT/PTA CEUs available (to be confirmed). If you are coming in from another state, we can provide you with additional information for CEUs.
Any pre-course work or reading ahead of time?
After you register (and about 1-2 months prior to the course), you will receive a list of suggested readings/videos and more info.
Airports:
Manchester- Boston Regional Airport, Manchester, NH- Airport code MHT, 1 Airport Rd, Manchester, NH 03103
Logan Internal airport, Boston, MA- Airport code BOS, 1 Harborside, Dr, Boston, MA 02128
Hotels:
Holiday Inn- 9, Northeastern Boulevard, Nashua NH-03062
Motel 6- 2, Progess Avenue, Nashua NH -03062

What should I wear and how will labs run?
Wear comfortable course attire. There will be external and internal labs. You have the option to participate in labs as a model for partners. If your are pregnant or not able to participate as a "model" for other reasons, this will still be okay. Please talk to the instructor and your lab partners.
Date and Time
Location
St Joseph Hospital - Rehabilitation Services
75 Northeastern Boulevard
Nashua, NH 03062