Sexual Harassment Prevention Training for HR Professionals and Managers
About this Event
With 1 in 3 women and 1 in 10 men experiencing sexual harassment at work, anti-harassment training's "check-the-box" approach isn't working for our employees.
During this interactive virtual training session, Define the Line Co-founder, Nikki Larchar, guides participants through discussions about what sexual harassment is, how it shows up in the workplace, and how we, as HR professionals and managers, can create sexual harassment prevention training sessions that will engage employees in meaningful conversations and help them feel empowered to speak up for themselves and each other.
Nikki introduces the concept of integrating interactive activities and discussions to create ongoing communication around harassment prevention and providing resources to employees on a recurring basis.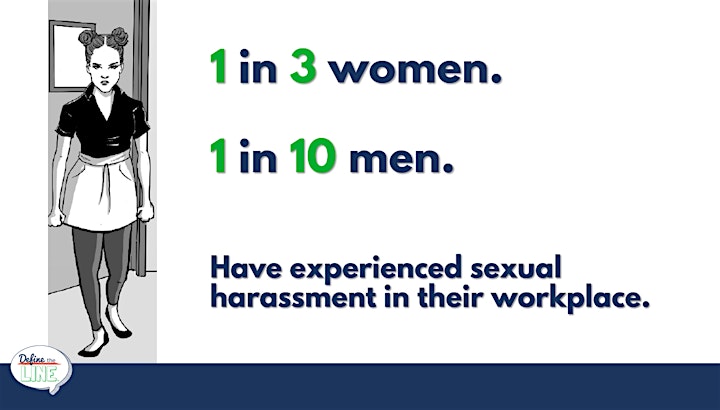 Learning objectives
Overview of the definition of sexual harassment and how sexual harassment shows up in today's workplace.
Understand what practices, policies, and procedures your organization should have in place to help prevent sexual harassment.
Review discussion topics and interactive activities you can implement with your team.
Agenda
Meet the trainer.
How does sexual harassment show up in the workplace?
Overview of the EEOC definition of sexual harassment.
Different types of sexual harassment.
Why people don't report sexual harassment.
Practices, policies, and procedures.
How to spark meaningful conversations and help your team prevent sexual harassment.
Action steps.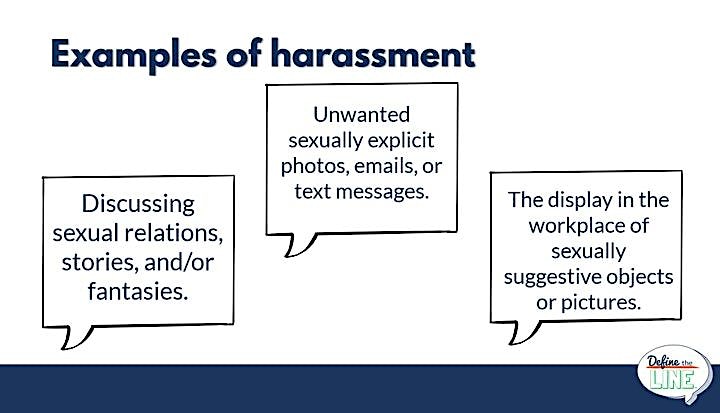 Who should attend
HR professionals, HR leaders, Training and Development professionals, Diversity and Inclusion professionals, Employee Engagement Officers, Managers, Supervisors, Leaders, and C-suite professionals.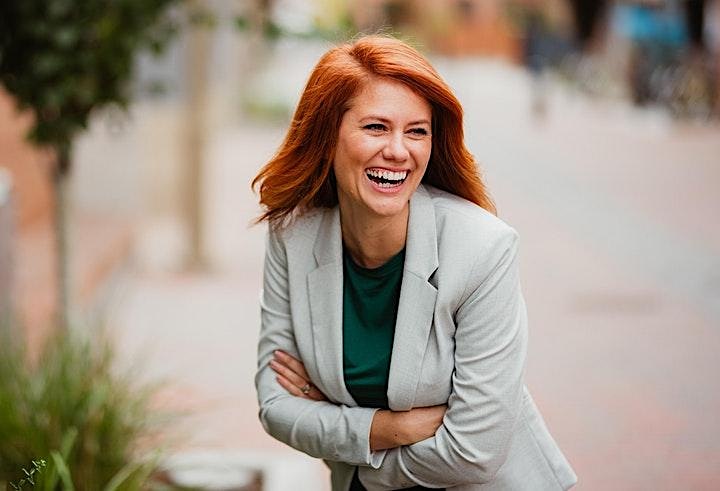 Meet your trainer
Trainer - Speaker - Advocate - Ally
Nikki Larchar, SHRM-CP, is the author of the comic book Define the Line and the Co-founder of Define the Line a company that is on a mission to eliminate workplace harassment and discrimination by empowering employees to speak up for themselves and each other because everyone deserves a safe and secure workplace.
Nikki finds joy in engaging her audience with interactive activities and discussions to spark meaningful conversations. As the co-author of the comic book training tool, Define the Line, Nikki has created the harassment prevention training she wished she had when she entered the workforce.
Define the Line's work has been featured nationally in media outlets such as NPR, SHRM, Workforce Magazine, HR Dive, and HR Bartender. When Nikki is not inspiring teams, you can find her serenading Disney songs to her dog while her husband tries to escape the beauty of her voice in their Cocoa, FL home.
Resources for participants
Copy of slide deck
Harassment Claim Checklist