Description
CFOLC's Ask The Expert Webcast
Sexual Harassment In The #MeToo Era
hosted by The CFO Leadership Council
Wednesday, October 3, 2018
12:00PM - 1:00PM ET
Note: Dial In info will be sent in your registration confirmation
Join us for this timely hour-long "Ask The Expert" call where Goodwin experts will discuss pragmatic and tactical approaches in this #MeToo era.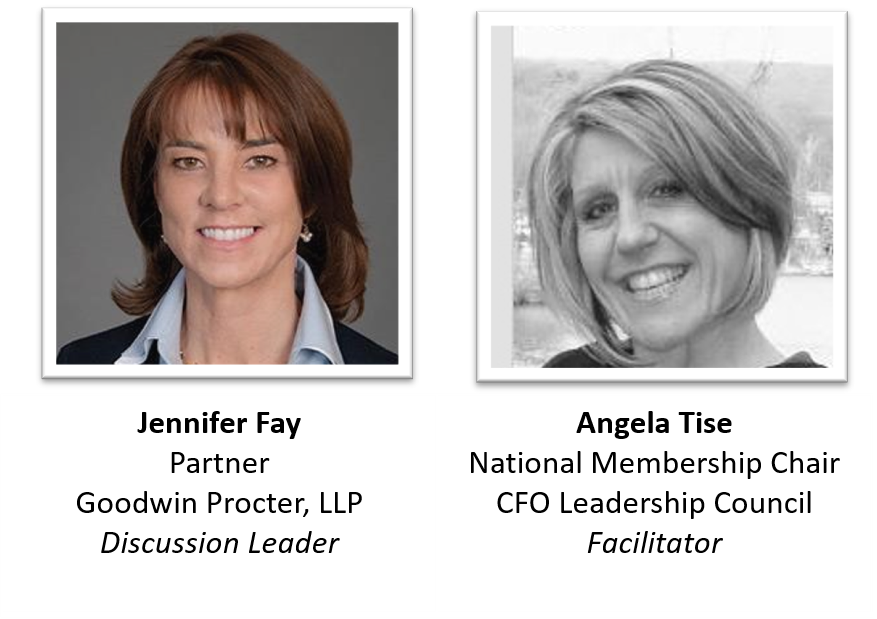 About Our Speaker
Jennifer Fay was interviewed in a three-part series on Executive Responsibilities in Harassment & Assault. It's a candid Q&A on dealing with definitions, reporting structure and liability from a senior management and board perspective. Click Below to Watch!
Jennifer Fay is a partner in Goodwin's Labor + Employment Practice and a member of the firm's Executive Committee. She is also a founding member of the firm's Trade Secrets & Restrictive Covenants Practice. Ms. Fay focuses her employment law practice on servicing the firm's technology, life sciences, private equity/venture capitalist and financial services clients, as counselor, a litigator and an employment law compliance expert. She has developed a particular expertise in connection with CEO and other executive transitions, complex workplace investigations and the development and implementation of proactive human resources strategies, including interactive workplace training. Ms. Fay dedicates much of her practice to investigations related to alleged discrimination/harassment, ethics and policy violations, founders' disputes and whistle-blower claims.
Ms. Fay is also the firm's primary specialist on employment-related issues that arise in connection with transactional matters, including mergers and acquisitions, asset deals and financing events. She regularly advises clients regarding complex topic areas, including IRS Code Section 409A compliance with respect to employment arrangements, sophisticated employment arrangements (including for public company executives), bonus plans and equity compensation matters.
She has special expertise in the areas of restrictive covenants including noncompetition, nondisclosure and nonsolicitation agreements. Trade secret issues often come into sharpest focus when an employee leaves one company to start another or work for a competitor. Such cases raise trade secret issues for all parties involved. Ms. Fay regularly provides strategic counseling and litigation services to clients who find themselves in these circumstances.
Ms. Fay also has in-depth knowledge of worker classification, discrimination, harassment and anti-retaliation laws, pay equity legislation and other high priority areas of interest for employers. She applies her subject matter expertise while counseling clients, negotiating with opposing counsel, handling disputes including through mediation and litigation and collaborating with the firm's business law attorneys and clients.
Her notable work in the past year includes handling sensitive and high stakes executive-level investigations and transitions, collaborating with respected economists to conduct gender pay equity audits, and presenting in venues across the country as a subject matter expert with respect to workplace harassment and assault.
Ms. Fay is listed in the Labor & Employment category in Chambers USA: America's Leading Lawyers for Business, where clients praise her for being "very good in a crisis" and understanding how businesses work, really knowing the law, and understanding people issues. She has also been recognized by Best Lawyers in the field of labor and employment litigation.
Topic Questions
If you have specific questions in advance of the presentation, please send them to Angela Tise at angela@cfolc.com for inclusion in the presentation.
We know this topic can generate hours of conversation and because we value your time and have only allocated one hour, we want to work as many of your questions as possible in to the initial discussion. Please note, we will leave time for Q&A at the end and we will also invite your questions and comments as the presentation is happening.
Registration
To register for this program, simply click on the green tickets button. All CFO Leadership Council members can attend this event for free. Non-member senior financial executives who are CFOs, Vice Presidents of Finance, Directors of Finance and Controllers (or the like) are welcome to attend this program.

Please note these webcasts are offered to finance leaders. The CFO Leadership Council reserves the right to decline any registration.
CPEs are not offered.
---
More Information
For more information about this program or The CFO Leadership Council, please contact Angela Tise, National Program Chair at angela@cfolc.com.