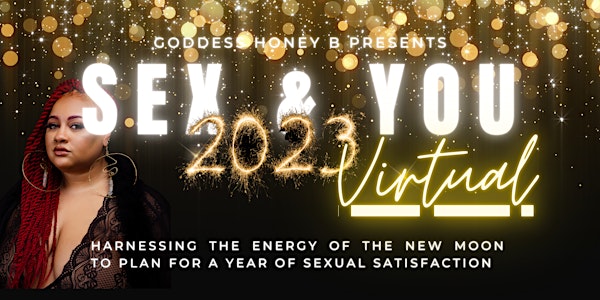 Sex & You 2023: Virtual Edition
Can't make it to the in-person event? Join us for a VIRTUAL Sex Life Visioning Affair!
About this event
Almost everything you love about the in person version—BUT ONLINE!
Everyone deserves to have sex that is consensual and consistently pleasurable. When it comes to setting goals, we will do so for almost every aspect of our lives *except* our sex lives.
Excellent sexual experiences deserve your time, attention and INTENTION. That's where I come in!
WE 👏🏽 GON 👏🏽 SET 👏🏽 SOME 👏🏽 INTENTIONS!
Whether it's more solo-sex, better partnered sex, you're looking to explore some new erotic goodness, or something else altogether, we will create tools and practices to move us closer to the sexual lives we desire.
ALL genders welcome. ALL orientations. From the freaks to the meek.
This is a VIRTUAL event. Be sure your ticket is for the correct event.
Included in your ticket price are:
- guided conversation and Q&A with pro domme & kink educator Goddess Honey B
- a curated materials list with everything you'll need to create a visioning tool
- guided mini kink exploration, including finding everyday tools you can incorporate into your own pleasure practices
Whether you're looking to have more sex, better sex, or even intentionally less sex, this experience is what you want and deserve. They say how you start your year is how you'll end it—so let me help you start it right!