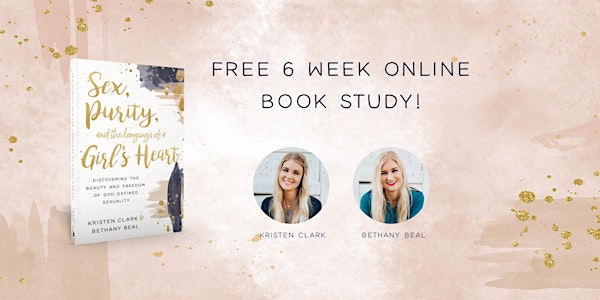 Sex, Purity, and Longings Online Book Study {FREE}
Description
Girls and women of all ages are invited to join Kristen and Bethany for this 6-week LIVE online study as they teach from their brand new book, Sex, Purity, and the Longings of a Girl's Heart: Discovering the Beauty and Freedom of God-Defined Sexuality.

If you don't have a copy yet, you can grab one here. If you're international consider purchasing an e-book or audiobook from any retailer.
This insightful and encouraging 6-week study will help women of all ages (single and married) discover God's good design for sex, longings, and purity.
This 6-week study will cover topics such as:
A Biblical understanding of your sexuality
God's good design for love, passion, and sex
Why your longings for intimacy are a good thing
How to conquer lust in your life
How to deal with secret sexual struggles
Practical help for embracing a life of purity
How to find ultimate satisfaction in Jesus
and much more.
You don't want to miss this exclusive 6-week book study!
We hope you'll grab your girlfriends and sisters and join us on June 3rd at 4:30PM (CST) for week 1 as we discover together how to embrace God's vision for sexuality.



SCHEDULE: This will be announced soon.
FAQs
How much does the event cost?
The event is 100% FREE with no hidden fees.
How do I access the live event?
Ticket holders will receive an access link (via email) each Monday before the event goes live.
What if I can't make it the day of the event?
You can re-watch the recording at any time through the link you receive in your email.