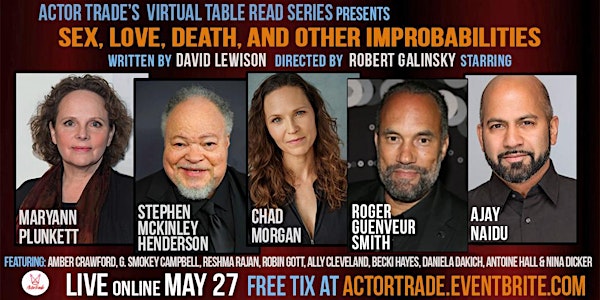 Sex, Love, Death and Other Improbabilities - short plays by David Lewison
Produced by Actor Trade, short plays by David Lewison, Directed by Galinsky, benefiting Literacy for Incarcerated Teens.
About this event
The Actor Trade Virtual Table Read Series features live table readings of stage plays and screenplays and is designed to bring working actors together for the pleasure of online audiences around the world. Each "episode" of the series also hi-lights a charity doing great work.
About Actor Trade
About Literacy for Incarcerated Teens - Donations can be made at the LIT site here or send through Venmo using: @lit4Teens
About David Lewison
About Galinsky
About the Plays: From raunchy bars to cheap motel rooms, from isolated apartments to a seedy movie theater, "Sex, Love, Death, and Other Improbabilities" follows characters who are in search of romance, or meaning, or even just a simple moment of human connection. Eight short tales show these women and men in their sometimes desperate, often fanciful, and frequently surprising encounters. Blending comedy and drama with touches of both tragedy and farce, these diverse stories of loves both lost and found resonate with quirky unexpectedness and with unexpected moments of redemption and reward…