Sex, Chocolate, and Your Pelvic Floor - Orlando Girls' Night Out
When and where
Location
Inspirit Yoga Studio 7575 Kingspointe Pkwy #21 Orlando, FL 32819
Refund Policy
Contact the organizer to request a refund.
Description
Sher Pelvic Health and Healing, LLC and Pelvic Guru™ are proud to sponsor a very exciting event:
SEX, CHOCOLATE, AND YOUR PELVIC FLOOR
(Thursday, Oct. 16, 6-9pm)
Global pioneers in women's and sexual health will be in town on Thursday, October 16, speaking at the national event "Sex, Chocolate, and Your Pelvic Floor." Sponsored by Sher Pelvic Health & Healing, and founded by the nonprofit Women's Health Foundation, the outing welcomes area women to a night of fun and eye-opening pelvic and sexual health discussions.
"Sex, Chocolate, and Your Pelvic Floor," previously held in dozens of cities including Boston, Chicago and New York, will provide attendees with drinks, snacks, prizes, swag bags, and most importantly, a comfortable, judgment-free atmosphere where they will discover valuable secrets of sex, get information on what's normal—and what's not—"down there," and a chance to have their women's health questions answered by experts. Just fun. No embarrassment.

A night you won't forget! All of the information you wish your gynecologist told you in a comfortable, girlfriend-talk type of atmosphere! Educating and empowering you! You can can ask intimate questions about pelvic and sexual health. Let's break the "sisterhood of silence" on issues traditionally considered taboo, such as urinary incontinence. How do you feel good again after a baby - the changes we don't always discuss...and much more! You may even win some fun prizes and a swag bag!
We are bringing in TOP INTERNATIONAL EXPERTS IN WOMEN'S HEALTH topics -UK, Canada, and Boston, Asheville, Chicago, Boca Raton, and Orlando.
Bring some friends and let's have a great time with chocolate, pelvic health talk, and champagne! More information about the amazing speakers and workshops coming soon!
www.sherpelvic.com
We are excited to partner with and share a portion of the proceeds of this evening event to the faboulous Women's Health Foundation. Women's Health Foundation is a nonprofit organization committed to improving women's pelvic health and wellness.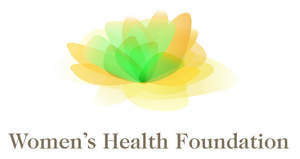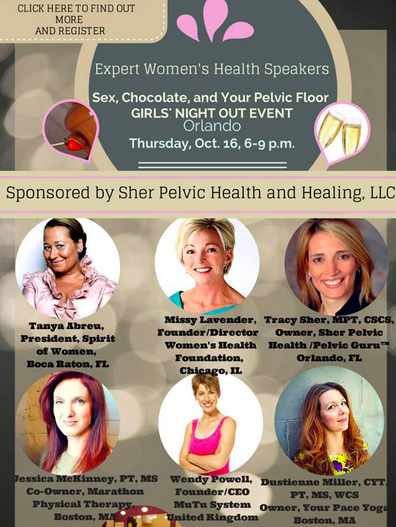 ___________________________________________________________________________________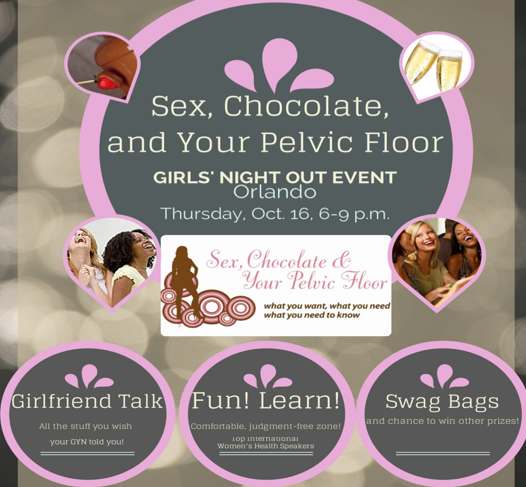 __________
** Note - we have a second event the following day for new mothers. How to Get Your Post-Baby Groove Back. This will also feature some of the top women's health speakers in the country - taking you through experiential workshops. You can sign up here or buy a bundle package on this page for both events. Here's the eventbrite link too.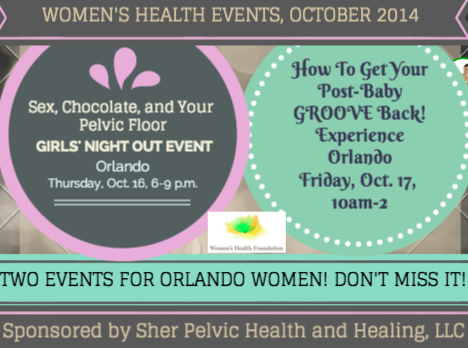 FAQs
Where can I contact the organizer with any questions?
Email: info@sherpelvic.com or call 407-900-2876
Who is this for?
Women of any age who want to learn all about how to get their sexy back after babies, stress, or aging.. We guarantee you will learn many incredible things you didn't know about pelvic health in a FUN environment. Get ready to have fun (and maybe even dance).
What should I wear?
This is a combination of a girls' night out and educational fun women's health event - so wear something that makes you feel comfortable, sassy, and sexy - from formal to functional!
What types of food and drinks will be there?
Stay tuned for more detailed information - We will definitely have chocolate and fruit! Count on champagne and other non-alcoholic beverages as well.
What types of speakers will be there?
Think about a room of speakers and guest panelists who are fitness professionals, women's health educators and CEO's of women's health companies, OB/GYNs, sex therapists and educators - all lead by a team of pelvic physical therapists. No question will be off-limits.