"Sex and Swords in Petticoats: Female Pirates of the Caribbean in the Early...
Location
The Irish Cultural Center
1106 North Central Avenue
Phoenix, AZ 85004
Description
"Sex and Swords in Petticoats: Female Pirates of the Caribbean
in the Early Modern Period"
Presented by Dr. Sharonah Fredrick
Assistant Director, ACMRS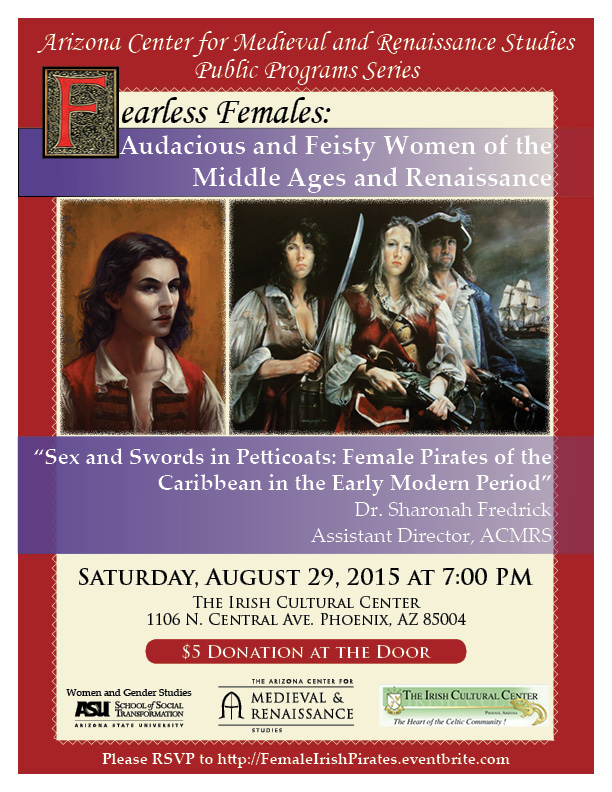 About the Program
The violent world of the Colonial West Indies was generally conceived in male terms: pirates and privateers, sea battles between Europe's imperial powers, emancipated Maroon slave communities led by men… but the Early Modern Caribbean was the scene of some of the most famous female buccaneers in history. Their names — Anne Bonny, Mary Reade, and countless others — as well as their Old World predecessors, such as the Irish women pirates who fought, and made a truce with, Elizabeth Tudor, open up a new field for Renaissance, New World, and gender research. Women sailed the seas and commanded male crews; led slave revolts and gave the newly freed persons equal status on their pirate ships, and challenged imperial might. The Victorian re-write of history relegated these women to a side-role, due to their "harsh" characters; but modern day West Indian writers and historians are reclaiming them as their own. The female pirates of the Caribbean constitute an important chapter in the maritime history of the Early Modern period, and in the development of race relations in the Colonial Americas.
About Sharonah Fredrick
Sharonah Fredrick joined ACMRS as its full-time Assistant Director in May 2014. She earned her doctorate in Hispanic Literature at Stony Brook University and her research focuses on the impact of the Early Modern Period in Latin America and on the effects of the Spanish and Portuguese conquests on the Native American peoples and on Africans in the New World. She is particularly interested in the manifestations of Pre-Columbian religion in epics authored in Latin America in the 16th-18th centuries, and issues of cultural survival and religious syncretism. Sharonah speaks four languages fluently: Spanish, Portuguese, Hebrew and English, with some Arabic as well. She also enjoys exploring the world of Celtic pre-Christian myth, and the medieval literature of Sephardic Jewish culture, both before and after the 1492 expulsion, in Spain and the New World. Sharonah has an Ph.D in Latin American Colonial and Indigenous Literature from SUNY Stony Brook, an MA in Renaissance and Medieval History from Tel Aviv University, as well as a BA in Latin American Anthropology from SUNY Buffalo, and a TEFL English Teaching Certificate from the International TEFL Teachers Consortium (ITTO) in Guadalajara, Mexico.