Severin Browne In Concert @ Norton Buffalo Hall

Thursday, August 10, 2017 from 7:00 PM to 10:00 PM (PDT)
Event Details
Norton Buffalo Hall
- Presents -
'70's Motown Recording Artist
Severin Browne
Original Pop, Folk, R&B and more from Los Angeles, CA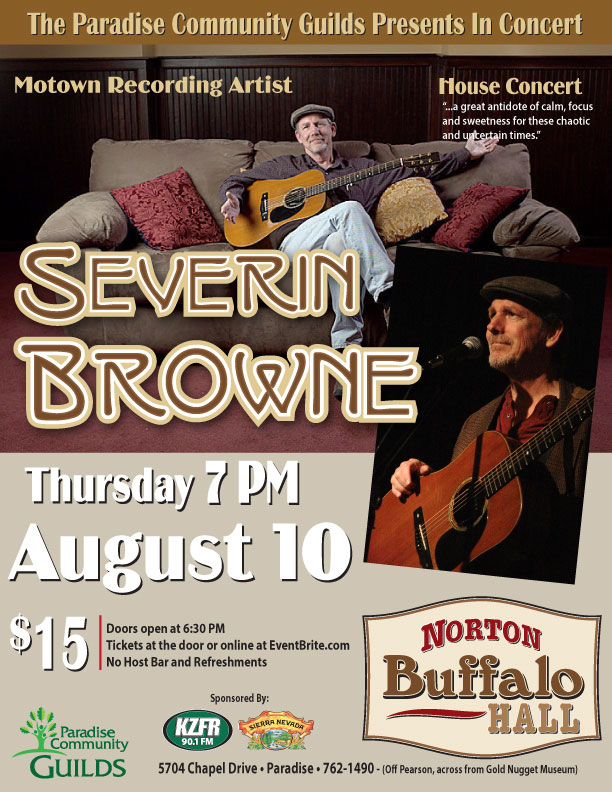 Thursday, August 10, 2017 at 7PM
Doors open at 6:30PM.  Tickets are $15, available online or at the door.
Refreshments will be served / Drinks for Purchase
"..True Grit..."
-KINK FM
"Severin Browne * Lucky Man; A Songwriter's Notebook * He's long been cherished as an honored member of the L.A. folk music community with good reason – he's an extraordinary songwriter – one of the best and most sophisticated melodists around, and a unique and gifted lyricist – as well as a fine guitarist and soulful singer. He shows here, as he does in his live shows, his ability to write any kind of song and make it work, from stunning ballads to rock and roll to Calypso. ... This is another great collection of songs by a songwriter who loves what he does, and shares that love directly and effusively, giving us a great antidote of calm, focus and sweetness for these chaotic and uncertain times."  —Paul Zollo, bluerailroad 

---
When Motown Records founder Barry Gordy asked Severin Browne if he wanted to make a record, Severin answered, "No."  
Eight months after signing on as a staff writer, Severin became the first white folk/country-type singer on the Motown roster, and released two albums with the label.  
Gordy must have heard good genes ringing through.  Severin and his older brother (the talented singer/songwriter Jackson Browne) come from a musical family.  Severin refers to his father -- a gifted jazz musician -- as "The world's greatest unpublished songwriter."  Under his influence, Severin began playing piano and guitar at a very young age.
Post-Motown, the much-celebrated Severin Browne Band played to packed houses throughout the greater Southern California area, including top venues such as West Hollywood's historic Troubadour.  
Today, Severin Browne is regarded as one of the most delightful performers in L.A.  With five solo albums to his credit, he is a sought-after festival artist who performs solo to packed house concerts, intimate listening rooms, and venues such as the Norton Buffalo Hall.  Since 2012, Severin has also recorded three albums and toured with an "A-team" of songwriters, the Tall Men Group.
Severin's easy manner in front of an audience convinces you that playing his guitar and singing his songs is an effortless and second-nature activity. Though he names Paul Simon, James Taylor, Antonio Carlos Jobim and brother Jackson Browne among his influences, these have been seamlessly folded into Severin's own unique, signature style.  His brilliant lyrics invite listeners into the songs while his solid melodies carry the story from one note to the next, with a natural and inviting delivery that has charmed audiences for over 40 years.
Don't miss this exceptional artist in concert at Norton Buffalo Hall on Thursday, August 10, 7PM! 
---
Coming up: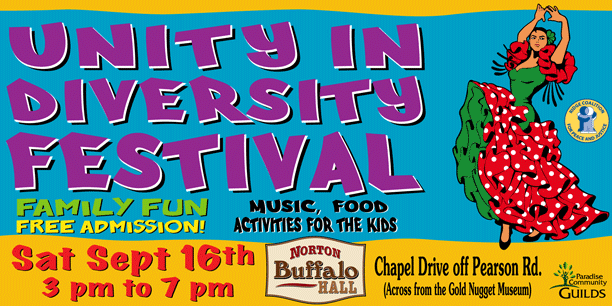 • Saturday, October 28, 2017 - Costume Party and Halloween Stomp
• Saturday, November 11, 2017 - Leonard Cohen Tribute
For more info call 762-1490.
When & Where

Norton Buffalo Hall
5704 Chapel Drive
Paradise, CA 95969


Thursday, August 10, 2017 from 7:00 PM to 10:00 PM (PDT)
Add to my calendar
Organizer
Located at 5704 Chapel Drive, Norton Buffalo Hall is an outreach of Paradise Community Guilds, an historic, non-profit, community-based service organization promoting the values of sustainability and stewardship.  Membership is open to all, and the public is generally welcome to attend all Guilds events.
Photos and other media support can be found at www.nortonbuffalohall.com.
Severin Browne In Concert @ Norton Buffalo Hall