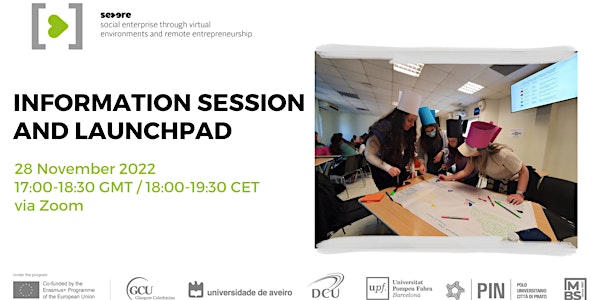 SEVERE Information Session and Launchpad
Join us online to find out how you can collaborate on a social enterprise project with students form across Europe.
About this event
Are you a student who would like to...
❖ Learn more about Social Enterprise?
❖ Collaborate with students from all over Europe?
❖ Have access to a global, online network of like-minded people?
❖ Go on a fully paid trip to University of Aveiro in June 2023?
If so, then come to our event to find out more!
SEVERE (social enterprise through virtual environments and remote entrepreneurship) is an Erasmus+ project that has been equipping students with the tools to create their own social enterprises, with a particular focus on achieving this remotely in the context of COVID-19.
We are looking for enthusiastic, curious and motivated students to join us for the final phase of training. Here, you will learn all about the project and our partners, be given a foundation in Social Innovation, and be introduced to some of the key tools used in remote working. You will also have the opportunity to be mentored by students who have already completed their training.
It doesn't stop there!
From here, you will have the chance to collaborate with other students from Dublin, Glasgow, Montpellier, Florence, Barcelona, and Aveiro either to join one of the already existing projects or even start your own! You will also be granted exclusive access to an online network of stakeholders across the social innovation ecosystem, as well as a Virtual Internships Platform.
*This event is only open to students from Dublin City University, Glasgow Caledonian University, Montpellier Business School, PIN S.c.r.l. University of Florence, Pompeu Fabra University, and University of Aveiro