Seven Stages to Sustainability

Thursday, June 5, 2014 from 12:00 PM to 1:00 PM (PDT)
Event Details
7 Stages to Sustainability: Building Sustainable Futures From the Ground Up
7 Stages to Sustainability (7SS)" is a collaboration road map, Asset Based Community-driven Development (ABCD) framework, philosophy of self determination and a curriculum empowering people, businesses and organizations to turn local assets into holistic solutions from the ground up.
While the 7 Stages to Sustainability is an Asset Based Community-driven Development (ABCD) framework, philosophy of self-determination and a curriculum, this seven stage pattern is also a proven to catalyst for business, technological and social innovation.
This webinar will be an overview of the 7 Stages to Sustainability and how it can be used to advance mutually-supportive global collaboration in the support of locally-led solutions.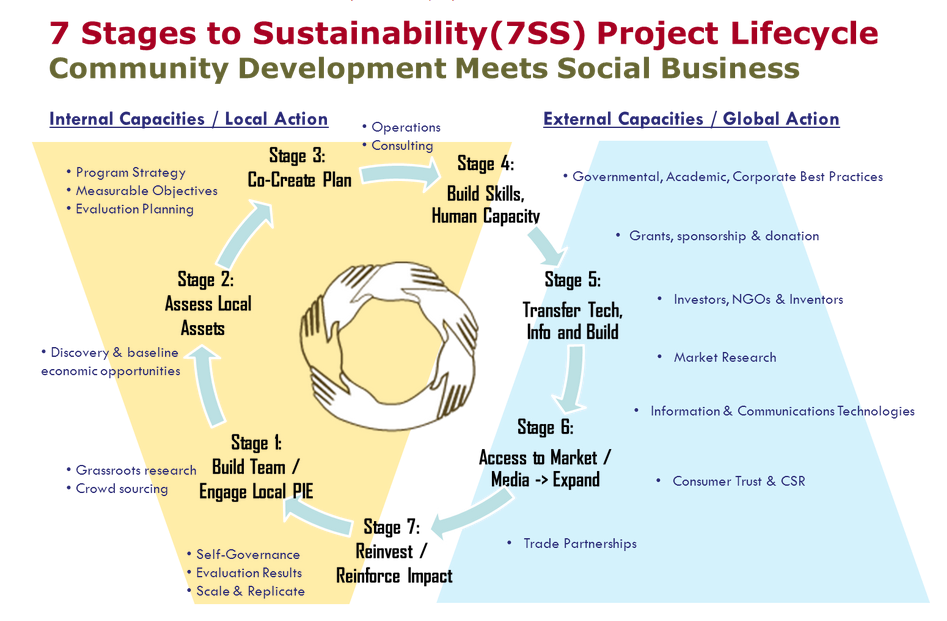 Seven Stages of Sustainability + Permaculture in India
Building upon several years of 7SS global grassroots community action, and the success of a first 7SS service learning curriculum in China, 7SS is being taken to new heights in northern India.
November 2013... Empowerment Works, Sacred Earth Trust - an Indian-based NGO, & Living Mandala - a US sustainable education collective, are bringing the 7 Stages of Sustainability Curriculum + Permaculture to the villages of Bodghaya, India - a UNESCO world heritage site, and Buddhist spiritual pilgrimidge - the place where Gautama Buddha attained Enlightenment.
To Find out more about this exciting project and unique training visit: http://empowermentworks.org/7-stages-to-sustainability-7ss.html
Webinar Presenter - Melanie St.James, MPA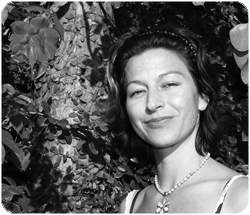 - Executive Director & Global Programs Director (USA)
- Executive Producer & Co-Chair, The Global Summit
Melanie's passion to change the world began at 20 in 1994 with a semester in mainland China, an experience that awakened her to the pressing social and environmental challenges of humanity. Through field studies in Senegal and Zimbabwe (1999) Melanie met many local social entrepreneurs ready to turn local resources into solutions, and in 2001 formed "Empowerment Works" to bring them the access to markets, tools and partners they needed to thrive. In 2007 after participating in the World Social Forum in Kenya, Melanie led the co-creation of The Global Summit (2008- 2020)  to advance participatory, multi-sector and community-led solutions.
Returning to China in Fall 2009 to co-create the service learning program for the World Academy for the Future of Women, Melanie delivered EW's flagship approach "7 Stages to Sustainability (7SS)" as a curriculum, which continues to evolve as an open source Asset-Based Community Development knowledge base.
Through the vehicle of Empowerment WORKS, Melanie is a creative social entrepreneur, building a team of fellow visionaries dedicated to building a thriving world from the ground up and the inside out.  Highlights on the journey include the 2006 International AIDS Conference in Toronto, the 2004 Sustainable Resources Conference in Boulder; Chairing/ Moderating the 5th International Symposium on Digital Earth, 2008 Global Sound Conference; and Co-founding the Coalition for a Sustainable Africa (CSA).
Melanie holds a Masters of Public Administration in International Management from the Monterey Institute of International Studies' Graduate School of International Policy Studies, and a BA in International Relations and Diplomacy from Schiller International University in Madrid, Spain. In 2007 she published a medicinal plant based AIDS treatment which she seeks partners to help make available in the developing world at cost.  Her training in Transformative Mediation and International Negotiations supports EW's multi-sector collaboration model. Fluent in French and Spanish, Melanie has lived and traveled across Asia, Europe, Africa and the Americas.
Host - Jay Ma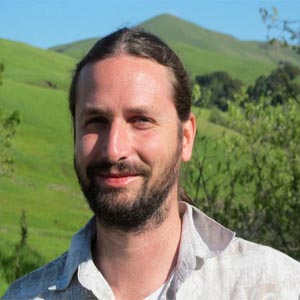 - Director of Programs - Living Mandala
Jay Ma is a holistic educator, regenerative design consultant, and social entrepreneur committed to creating ecological and cultural resiliency through living systems design principles. As the founder and director of programs at Living Mandala, Jay works with holistic educators, businesses, communities and institutions designing, organizing, and promoting educational trainings, events, and initiatives for personal, ecological and social transformation in the pacific northwest, nationally, and internationally. Jay is a community organizer and seasoned event producer who has produced educational programs, retreats, workshops, conferences and community development projects for 12 years now with organizations including the Regenerative Design Institute, the Institute of Noetic Sciences, Gaia University, Omega Institute, Harmony Festival, and many others. 
Jay received his first Permaculture Design Certificate in 2001, started his degree program in performing Arts Production Management at Naropa University, received a B.S. through New College of California in Culture, Ecology, and Sustainable Community with a concentration in Eco-Dwelling & Natural Building in 2005, and is currently a Master's Candidate at Gaia University in Integrative Ecosocial Design. He is a two-time graduate of the pioneering two-year training intensive in Regenerative Design & Nature Awareness through the Regenerative Design Institute. Jay is permaculture design course instructor, a nature connection educator, a community facilitator, and a fire walk instructor through Sundoor International.
Jay is also co-founder of Shire Springs - a developing Ecovillage based on Permaculture Ethics & Peacemaking Principles offering affordable residential Ecovillage living and community co-stewardship opportunities on a beautiful oasis in the greater Mt. Shasta Bioregion. Jay is skilled community organizer as well as an engaging educator passionate about sustainability, nature connection, social entrepreneurship, team building, and creating a culture of human beings living harmoniously with each other and our environment. More information on Jay Ma can be found on his Linkedin Profile.
* Register Above and you will be emailed a link to participate in the webinar.
Contact:
For questions and more information
email: education@livingmandala.com
website: www.livingmandala.com; http://empowermentworks.org/

Organizer
Living Mandala
Living Mandala designs, facilitates and produces courses, workshops and events as well as offers consultation services that support personal, ecological and socially regenerative practices for green and holistic lifestyles. The mission of Living Mandala is to serve, empower, and promote holistic educators and organizations in order to increase awareness of their work, to create educational programs, to catalyze project activities that implement ecologically and socially regenerative practices of human beings living in greater harmony with each other and their environment. Grounded in the design science of Permaculture and Whole Systems Design, Living Mandala works with a triple bottom line of ethics and values: Care of the Earth, Care of People, and Return the Surplus. Living Mandala has co-produced over 75 courses workshops, and events the last 4 years from intensive three-week residential Permaculture & Ecovillage Design Certification Courses, weekend workshops, to larger conferences and events like the Harmony Festival Ecovillage, Financial Permaculture Summit, and others.