Location
The George J. Doizaki Gallery, Japanese American Cultural & Community Center (JACCC)
244 South San Pedro Street
Los Angeles, CA 90012
Description
*** SPECIAL ANNOUNCEMENT ***
Mr. Kanazawa, the producer of the film will be in attendance on both dates. For students with students ID, it's $10 for a single event. Please RSVP (your name, phone number and indicate either Sat/Sun) at rsvp@lajapan.com.
"Seating is very limited. Please reserve your seat NOW!"
THE LAST WEEKEND of SAMURAI GEISHA FEST
OCTOBER 19 (SAT) & 20 (SUN)
Saturday, October 19 (Special Movie Screening) *5:00pm: Door Open
$25 -Online ($30 Door)
6:00pm-6:30pm: Shamisen Live by G shamisen, LiveComedy by Kazumi Kusano
6:30pm-7:00pm: Panel: Entertainment industry between L.A. and Japan
8:20pm-9:00pm: Meet & Greet with Entertainment influencers
Saturday, October 19
(After Party)
S
unday, October 20 (Movie Screening Only)
*11:00am: Door Open
(This is a Japanese trailer below but the movie has English subtitles.)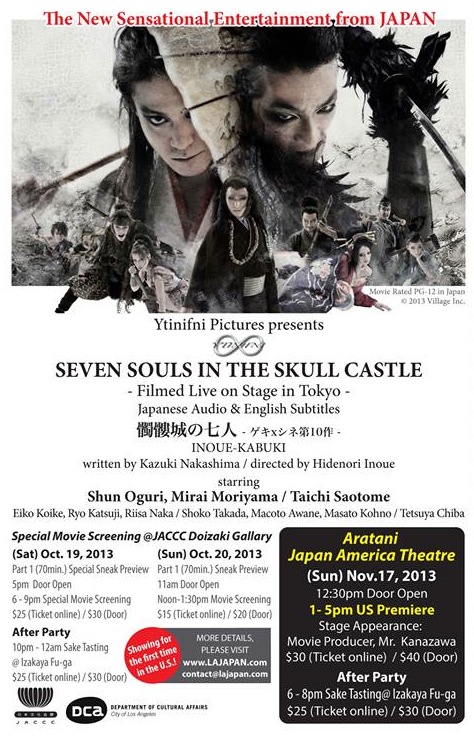 About SEVEN SOULS IN THE SKULL CASTLE:
Running at the top of the entertainment world in Japan, theatrical troupe GEKIDAN SHINKANSEN brings a new live-theatre style of film screening to moviegoers, as their popular stage performance becomes a production that can be enjoyed "just like a movie" in the cinema.
STORY
Time is 1590 (Tensho 18 in the Japanese era).
After the demise of warlord NOBUNAGA ODA, Japan was about to be unified by HIDEYOSHI TOYOTOMI. However, there was one man in Kanto region that was defiant to it. That man, who named himself TENMAOH (Mirai MORIYAMA) and leads the KANTO DOKURO-TO, an armed group hiding in the pitch-black DOKURO-JO (skull castle), once worked for NOBUNAGA. SUTENOSUKE (Shun OGURI) happens to rescue a woman who has been chased by the KANTO DOKURO-TO, which was headed by the bloodthirsty madman TENMAOH. To hide and shelter the woman, SUTENOSUKE meets MUKAIYA RANBE (Taichi SAOTOME) at a brothel district. Manipulated by magical fate, people start to congregate in the Kanto region. When the shared past between SUTENOSUKE and RANBE, and the relation to TENMAO come to light, it is also the time when the dark ambition of TENMAO is about to be revealed. Without regrets, SUTENOSUKE heads for the DOKURO-JO, which is surrounded by 20,000 soldiers, to destroy it and stop TENMAOH's dark ambition with just seven souls.
*****************************************************************************************************
Prices are all-inclusive. There's nothing more to buy!
*Tickets are non-refundable. To change ticket holders, please log in to your Eventbrite account.