The 7 Principles Workshop for couples is a two-day marriage workshop based on the internationally acclaimed research of Dr. John Gottman.
About this event
The Seven Principles Workshop for couples is a two-day marriage workshop based on the internationally acclaimed research of Dr. John Gottman as presented in his New York Times bestselling book—The Seven Principles for Making Marriage Work. This educational workshop has been offered across the US and internationally, and has strengthened the relationships of tens of thousands of couples. It's specifically designed to help couples improve their friendship and learn powerful communication and conflict management skills.
The workshop includes lectures, demonstrations, videos and private couples exercises. The activities are fun, insightful and informative. The presenters are hilarious. And there is no need to worry about sharing your personal problems in front of others... we don't do any group sharing at this workshop.
Friday evening is specifically created to be a Date Night. Beyond the workshop itself, we will be providing drinks and desserts will for you to enjoy while you participate in the training. There are also several awesome restaurants nearby where you can grab food before the workshop begins and during the lunch break on Saturday.
COUPLES WILL LEARN & PRACTICE RESEARCH-PROVEN TOOLS TO:
Make conflict work for your relationship
Deepen intimacy and build trust
Identify your solvable vs. perpetual issues
Strengthen your foundation of friendship
Collaborate more effectively to solve problems
Communicate clearly and effectively (...and get more of what you want and need as a result!)
HERE'S WHAT YOU GET...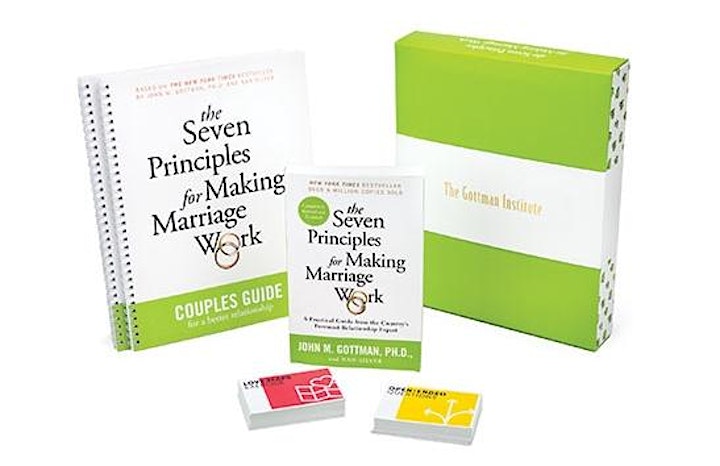 10 Hours of Training from Laura & Nate • • • • • ($1,500 Value)
The Seven Principles for Making Marriage Work • • • • • ($17 Value)
2 Seven Principles for Couples Workbooks • • • • • ($30 Value)
Love Maps Card Deck • • • • • ($16 Value)
Open Ended Questions Card Deck • • • • • ($16 Value)
Dessert & Drinks Friday Night • • • • • ($20 Value)
Continental Breakfast Saturday Morning • • • • • ($20 Value)
Dreams in Conflict Webinar • • • • • ($120 Value)
TOTAL VALUE: $1,739
YOU PAY: $397
SCHEDULE
FRIDAY NIGHT
5:30pm……... Registration Open & Desserts
6:00pm………Workshop Begins
9:00pm………Workshop Ends
* Please note, dinner is NOT included.
SATURDAY
8:30am……… Doors Open
9:00am……… Workshop Begins (Light Breakfast is Available)
10:30am……. 15 Minute Break
12:00pm……. Lunch Break
1:15pm……...... Workshop Continues
4:00 pm ...... Workshop Ends
WHO SHOULD ATTEND?
COUPLES THAT WOULD BENEFIT FROM THIS WORKSHOP:
Pre-engaged
Premarital
Everyone from newlyweds to seniors
Those who wish to take their marriage from good to great
Those needing better conflict management skills
COUPLES THAT THIS WORKSHOP IS NOT SUITED FOR:
Severe relationship distress
Emotional abuse
Domestic violence
Active addictions (alcohol, drug, gambling)
Serious mental health problems in one or both partners
Single people
WHO IS PRESENTING?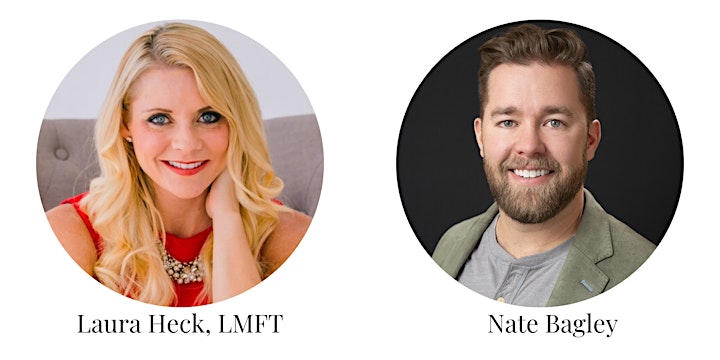 Laura is a licensed marriage and family therapist and a Certified Gottman Therapist (one of less than 300 in the world). Laura has trained, taught, and spoken in front of tens of thousands of couples all over the country about how to create a marriage that thrives instead of one that merely survives. She cohosts the podcast Marriage Therapy Radio, and has worked in a leadership role at The Gottman Institute as the Director of Professional Development until 2015 when she relocated to SLC.
Nate Bagley is the creator of Utah Date Night. He's a member of the Utah Marriage Commission, a Marriage Researcher, a TEDx speaker, a podcast host, and entrepreneur. His goal in life is to rid the world of mediocre love. He is a Gottman Trained Leader for the Seven Principles for Making Marriage Work program, and he has spoken all over the country. His writing has been featured on sites like Business Insider, Thrive Global, The Good Men Project, and more.
TESTIMONIALS
FREQUENTLY ASKED QUESTIONS
What's the dress code?
Come dressed comfortably. You'll be sitting in soft chairs for the majority of the time.
Will there be food?
Please have dinner before you come on Friday. You can even bring it with you if you're short on time. However, we will be serving you some delicious desserts on Friday night and we'll have snacks, drinks, and a continental breakfast for you on Saturday.
Do I have to be married or in a relationship to come?
This event is designed specifically for people in committed relationships . We definitively don't recommend making this a first or early date. However, you don't have to be married. If you're engaged or seriously dating, you'll get a TON of value out of attending. You'll probably fall even deeper in love ... which is really the goal, isn't it?
Where do I park?
There will be ample parking on the North side of the building. Feel free to park anywhere. The event will be held on the ground floor in the conference room on the left side of the lobby. (You'll see us when you get there. I promise.)
Can I get tickets at the door?
We will not be selling tickets at the door. The only way to get tickets is to click the button below, and register. This is an intimate workshop and we're only accepting a small number of couples. (This isn't like a normal Date Night with like 400 couples in attendance.) So act fast before we sell out!