Seven Principles for Making Marriage Work (Gottman) led by Dr. Doug Burford

Friday, March 22, 2019 at 6:00 PM

-

Saturday, March 23, 2019 at 3:00 PM (CDT)
Event Details
This Friday evening (6-9pm) and Saturday (9am-3pm) workshop is for couples at any stage of relationship, married or not. The content is based on The Seven Principles for Making Marriage Work by John Gottman, PhD. The format is a live presentation led by Doug Burford, a Licensed Professional Counselor, who is Level 3 trained in Gottman Method Couples Therapy and is a 7 Principles Leader trained by Seattle's Gottman Institute.

The  seminar imparts in practical ways the findings of Dr. Gottman's four decades of research on the habits and patterns of couples. His scientific, longitudinal studies at the University of Washington are without peer in their study of over four thousand couples, measuring everything from the way couples talk to each other, to vital signs, to stress hormone levels, to conflict-recovery techniques.
The research conducted by The Gottman Institute has made Dr. Gottman the most-quoted author on marriage by other authors on marriage. It has provided solid, scientifically-validated conclusions on what makes relationships work. In fact, so reliable are Dr. Gottman's principles that he can observe a married couple in conflict for fifteen minutes and determine whether they will divorce—with over 90% accuracy—assuming their interactive patterns remain unchanged.

If you've ever wondered why some couples thrive while others dive, this seminar will provide answers. In one partial  weekend, you'll learn the six toxic patterns observed in "disaster couples" that cause their demise, as well as the seven alternative relationship-building patterns observed in "master couples."  As a couple, you will engage in private exercises to help you apply the Principles to your relationship.
Registration is per couple and includes two (2) complimentary copies of The Seven Principles for Making Marriage Work, by Dr. Gottman. (Professionals working with couples, who are interested in the seminar from an educational or CEU vantage point, may attend with their partner, or unaccompanied, or with a colleague or friend.)
What recent attendees have said: 
"Thanks for the very informative session. I learned new 'tools' I can use to be a better communicator and partner."
"The Love Maps and the antidotes to The Four Horsemen will be very helpful."
"The best marriage seminar we've attended!"
"The content was great; ...the personal examples definitely made it relatable."
"I enjoyed experiencing this seminar with couples in all stages of life."
"The environment was very comfortable."
"A highlight for me was learning about conflict resolution in a safe, fair, and supportive way."
"It wasn't 'gloom and doom' but rather positive."
(I'm now) "...able to identify what the argument is really about, and identify how the other is processing things."

"I enjoyed the real-life stories and hearing other couples."
"Easy-to-follow and fun exercises to do together."
"Great use of our time!!" 
"It was very pleasant to evaluate where my marriage is, where it is going, and how much fun it can be to go through this journey."
"This has been a roadmap to get our relationship back on track."
"I liked the conversation and being able to hear others' perspectives."
"My eyes have been opened more fully to the perpetual vs. solvable problems in any relationship."
"There are tons of difference-makers you can use in making your marriage a great marriage."
"I feel less doomed about our conflict; it's a validation that although we need help resolving it, we are not broken because we have it."
"I enjoyed the mix of activities, videos, and discussion."
 
FAQS: 
Must both partners attend? 
        Ideally yes, because couple exercises are a significant part of the learning experience. 
Is the seminar only for married couples?
        No, the material applies equally to couples who are dating, cohabiting, or engaged. 
        Professionals in helping fields may attend unaccompanied, or with their partner, or with a colleague or friend.
Will we share our struggles publicly? 
        No, couple exercises are private. Participation in group discussion is voluntary. 
Do we have to read the book? 
        No, but learning is enhanced by the additional information in the book. 

How many couples will be present? 
        The event is limited to twelve (12) couples or 24 people. 

What if I have to cancel my registartion?  
        Due to partnership with third party marketing sites, cancellation reimbursement is set at 80% of paid registration(s), up to seven days prior to the event. 
Where can I contact the organizer?
       Please email info@DougBurford.com or call (913) 642-2190.
How do I secure Continuing Education Units (CEUs/CEs)? 
Counselors wishing to earn 8 CEUs, please notify the organizer at time of registration. (If registering through National Marriage Seminars, CEUs are handled according to their policies, pricing, and procedure.) 
When & Where

Astra Business Center
6900 W 80th Street
Overland Park, KS 66204


Friday, March 22, 2019 at 6:00 PM

-

Saturday, March 23, 2019 at 3:00 PM (CDT)
Add to my calendar
Organizer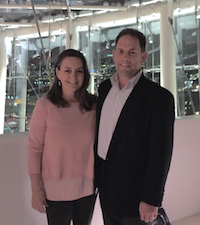 Claudia Burford, LBSW, is a Gottman Institute-trained Educator for the Bringing Baby Home program. She has previously worked with Parents as Teachers and The Family Conservancy, and now serves as a social worker with Children's Mercy Hospital, in Kansas City, MO. Doug Burford, DMin, LPC is Level 3 trained in Gottman Method Couples Therapy, and is a Gottman Institute-trained Leader for The Seven Principles for Making Marriage Work. Doug's counseling practice in Overland Park, KS specializes in relationship counseling and trauma therapy. Doug and Claudia have been married for over thirty years and have raised three children.