Seven Black Comedians doing seven minutes of Blackity Black Black Blackness...
About this event
We have some of the most hilarious Black Comedians from all over the country who are super ready to share their hilarity with you. All are welcomed to this show. All we ask is that you respect the culture. We are going to have soooooooooo much fun! Food, drinks, and amazing music will set the stage for the comedians to have you reeling with laughter.
We will have a Black Culture Game Show, so brush up on your Black History and Pop Culture.
It's Halloween, so the best costume wins $150.
Your comedians are the cream of the crop. Multiple albums, multiple film and television networks, and they have graced some of THEE most legendary comedy stages ever!
Your comedians are:
Paris Sashay, Rallo Boykins, Justo the Comedian, WooWoo the Comedian, Mahdiy Drummond, Ashley Mayo, hosted by Anthony Oakes. We will also have a few guest comedians drop in. You never know who it could be!
Seven Black Minutes: Black Time Matters!
Check out the video from the last Seven Black Minutes...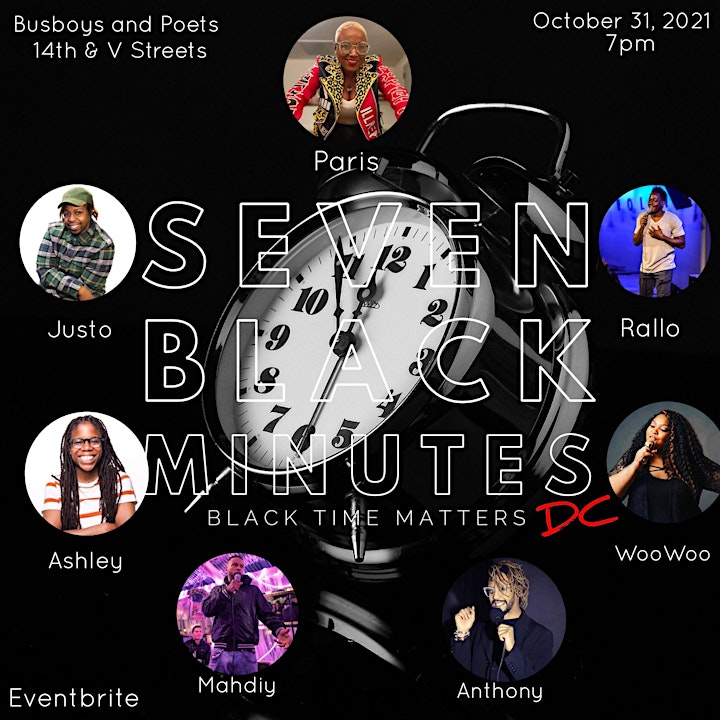 Organizer of Seven Black Minutes: DC (Halloween Edition)
Hailing from North Carolina, Anthony D. Oakes is a District of Columbia resident who is taking the comedy scene by storm. A natural comedian, featured in Washington Blade, Anthony has hit the ground running. His clean, yet edgy, southern, intellectual, witty humor will have you reeling with laughter.
You can catch him locally at: The DC Improv, DC Drafthouse, The Bier Baron Comedy Loft, and, The Wonderland Ballroom. A writer by trade, he has written and contributed to several major publications.
Anthony is currently a co-host of, Black Think Tank with Anthony & Patrice every Tuesday on Facebook LIVE. He also produces several comedy shows in the DMV area. Anthony can be found on all social media outlets.