Setting the Vision for the Future
Description
COMPLETE Event details below and in the various ticket descriptions, HOWEVER, please purchase tickets here: PURCHASE HERE ONLY!
Metro ATL & Beyond presents Lunch & Learn:
Setting the Vision for the Future with Sheronda Goodwine Barksdale
Sheronda's use of vision boards has changed her life and on December 15 she will guide us on our vision board making venture and share about having the vision written in both word and picture form.
The Bible says we are to "write the vision and make it plan so that they who run can read".
I'm sure Sheronda will bring materials for us, but as this is the first "vision board party/Lunch & Learn" Metro ATL & Beyond has done ... we want to ensure all those who will be joining us are fully prepared. There's a really good article here [at the link below], as well as downloadable PDF about the how's and why's of Vision Boards.
---
http://makeavisionboard.com/
Excerpt from MakeaVisionBoard.com:
Make a Vision Board and Create a Better Life!
Learn how to create Vision Boards that will help you …
Get clarity on what matters most to you.

Stay focused on those desires.

Turn your life in the direction you choose!
What will your life look like a year from now, or in 5 years or 10 years? Do you have a clear vision of what you would like to be or do or have?
---
The fourth quarter of 2017 is 1/2 gone, and the first quarter of 2018 will soon be upon us. Is it going the way you had seen in your mind? Would it have been different if you had written it down and/or created a vision board? What are you going to do to change 2018?
---
Price includes all you will need to construct your vision board, but you are encouraged to bring magazines and printed pictures/text you want to include. Scissors, glue & markers will be yours to take at the end of the day, along with your Vision Board. As always, prices include your lunch and the workshop with our Keynote Speaker.
THE FIRST 15 PEOPLE TO REGISTER (paid tickets only) WILL RECEIVE A METRO BRAG BAG (gift bag) VALUED AT A MINIMUM OF $215.00

---
4 Agenda Sponsor Spots available for your Business Card $20 each

There is one (1) Table Sponsor space [$85 and you get to speak for 10-15 minutes], and 3 Vendor spaces [$65] remaining.

There is one Lunch Sponsorship available - can provide physical meal or sponsor it. See Details in ticket area.

There are monthly Event Sponsorships available ... $250 details in ticket area.
There are 2 Step & Repeat Banner Sponsorships available ... details in ticket area.
There are several different Levels for Yearly Sponsorships available ... details in ticket area.
__________________________________________________________________________________________
DOOR PRIZES SOUGHT FOR DRAWINGS FOR ATTENDEES!
__________________________________________________________________________________________

Thank you to our current corporate sponsors.
There are also opportunities for [additional] corporate sponsors. Currently, Metro ATL & Beyond's events and workshops are sponsored by Harold & Nanette Lee's company Laser Dimensions Engraving, in Douglasville, GA.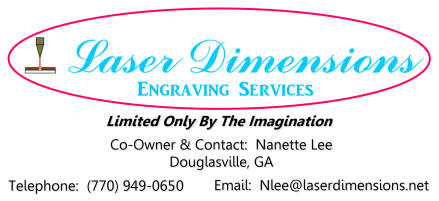 Laser Dimensions provides personalized, engraved gifts for all our speakers and will be happy to help you find the perfect gift for your gifting needs. #GetLasered
We were really glad to have had another Corporate Sponsor, My Design Habit, a Full-Service Graphic Design, owned & operated by Nicole Austin came on board in 2016.

If you are looking for a new business card, or are rebranding and need a new look, Nicole Austin at My Design Habit, is the person you need. She will help you take your idea, refine it, and turn it into a finished product whether that is a print project or a digital one. #MyDesignHabit

T-Mobile Store #5785, 6700 Douglas Blvd Ste K-4125, Douglasville, GA 30135
Store (770) 577-1211 Email: Ross.Anderson@T-Mobile.com
T-Mobile Retail Associate Manager, Ross Anderson, is our Direct Representative. T-Mobile is providing us with Mobile Hotspots for all of our events. As we grow, so will the number of hotspots and other services that will be available to us.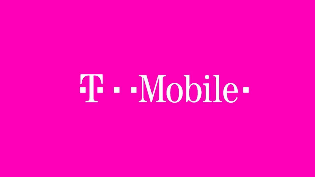 #MetroATLnBLnL12
#metroatlnb
#MetroATLnB
#ItsMoreThanBusiness
#ItsAnExperience
#GoingBeyond
NO REFUNDS UNLESS EVENT IS CANCELED!