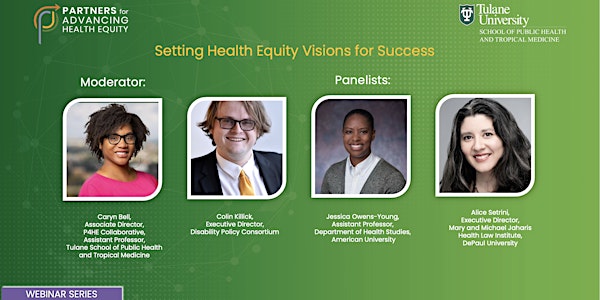 Setting Health Equity Visions for Success: Part One
Share visions and solutions to combat inequities in our communities.
By Partners for Advancing Health Equity
Date and time
Tuesday, March 28 · 11am - 12pm PDT
About this event
People have different approaches to understanding what health equity is and how to achieve it. This webinar will bring together people from multiple sectors for a conversation and discussion of what success in health equity work looks like. Speakers will hail from a variety of backgrounds including academia, non-profits, philanthropy, and community activism, among others. Their stories will highlight the broad array of successful achievements in the field of health equity through this discussion on policy, "on-the-ground" efforts in communities, health and technology, philanthropy, and more. Through the sharing of their successes and challenges, we will seek to create shared definitions of success in health equity based on the perspectives of the collective.
Hear success stories from established health equity leaders from various backgrounds to inspire and empower participants to begin or continue health equity work.
Discover strategies for reforming, disrupting and dismantling systems toward the goals of health equity that can be implemented in both general and specific situations.
Share visions and solutions to combat inequities in our communities.
Panelists:
- Colin Killick, Executive Director - Disability Policy Consortium
- Jessica Owens-Young, Assistant Professor, Department of Health Studies - American University
- Alice Setrini, Executive Director, Mary and Michael Jaharis Health Law Institute - DePaul University
Moderator:
- Caryn Bell , Associate Director P4HE - Tulane School of Public Health & Tropical Medicine
Webinars are free and open to all people and organizations who share the common goal of a future where everyone has the ability to live the healthiest life possible.
Captions provided for all virtual activities.
About the organizer
Partners for Advancing Health Equity promotes innovation in health equity by facilitating active collaboration between people and organizations to inform and harmonize research to advance actionable and sustainable solutions.