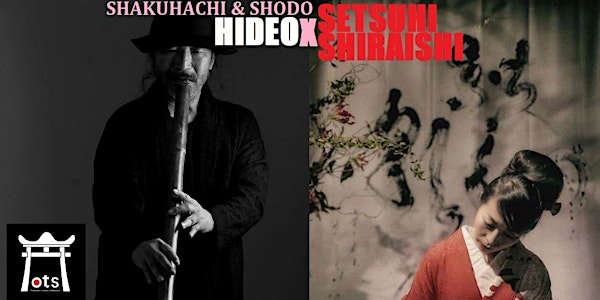 Setsuhi Shiraishi w/ Hideo
When and where
Location
The Crown Baltimore 1910 North Charles Street Baltimore, MD 21218
Description
OTS prodcutions presents:
Sponored by Izumibashi Shuzo

Japanese Calligrapher Setsuhi 'eri' Shiraishi

https://www.setsuhi.jp/rirekisho/
https://www.setsuhi.jp/works/

Having been interested in calligraphy during her childhood, Setsuhi became a calligraphy master at 22 years old. She is pursuing her own unique style of calligraphy while expressing the world of traditional calligraphy. The world she creates by subliming calligraphy into a composite art through collaboration with musical and fine arts is highly regarded. She has also been active outside of Japan, attracting many fans from around the world through her live collaborative performances with music.


HIDEO

http://n-as.org/rakudoan/
https://www.komuso.com/top/index.pl

Shakuhachi Bamboo Flute player, learned the classical Zen Shakuhachi style, in 80th. He began performances collaborating with different types of dancers, such as modern, contemporary, Butoh in 90th. He has international performance activities mostly in San Francisco bay area, Florida, Puerto Rico, New York, France and Spain in addition to his domestic ones in Japan.

Integrating the new techniques such as simultaneous singing and Horagai blowing techniques to the classical Shakuhachi playing, he creates a new artistic world, a contemporary yet pure classical Japanese aestheticism. An eternal member of Komuso Kenkukai (A research organization on Komuso Zen Monks and the music they created and passed down; Hoshin-ji temple, the headquarter of the organization) since 1986.
He also opened a performing art space in Tokyo ( 2004), and is active to introduce the new contemporary performing arts.
RAKUDOAN.

You do not want to miss this performance, by which, Shodo and Shakuhachi are presented in a intimate and raw atmosphere.

Date:
Thursday, March 7th, 2019
Time:
8:00pm Doors / 8:30pm Performance
Location:
The Crown Backbar
1910 North Charles Street, Baltimore MD 21218
Cost:
Free