| | |
| --- | --- |
| Seth Rogen Film Casting Non Union Extras! | |
Event Details

www.SusanJohnstonCasting.com
Judge: Daytime Emmys 2011
Judge: New Media Institute 2010/11
Feature Length Comedy with Seth Rogen casting Non Union Extras, all types needed Ages 18 and up.
This is a fun romp of a film with a FANTASTIC crew and cast!
Please hit reply and email (it will go to susanjohnstoncasting@gmail.com)
Name:
Cell:
Email:
small pic or link to pic
COMPENSATION:
Casting director will sign you in (rare opportunity)
You will get your choice of:
Industry Resource Guide- www.DidYouKnow.la
E-Books, choose from Ear Prompter Training, Music Making, Film Making, Mktg & Social Media, Make Money for Who You Are, Money Making, The Goddess Curve, Music Distributing
Industry Events:(based on wha'ts available) House of Blues Foundation Room, Magic Castle, private parties, plays, Tim Burton Museum exhibit, Movie Openings, Art Gallery Soiress...more.
AND
there will be a raffle the day you are an extra and choose from these sponsor gifts:
NEW $25. Restaurant gift certificates
NEW Showbiz Labor Guide (worth $60.)
NEW Creative Handbook Directory
NEW Jewelry
NEW Lamps
NEW Household items
Brand NEW Clothing from designers such as armani exchange, celebrity sport, INC and other popular brands. We have Dresses, Polos, Shoes, Shirts, Pants.
Acting Class
Entry into any category for www.NewMediaFilmFestival.com
RSVP to participate. Please note, a typical day on a set is 12 hours. You will only be asked to arrive close to set time and you will be wrapped once your scenes are done filming. Also, you will have a decent holding area to hang out in between takes and the same food and craft services that talent and crew has.

Thanks!
http://www.susanjohnstoncasting.com/

Organizer
Susan Johnston Casting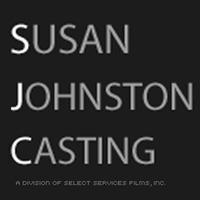 to advance actors in thier career
Seth Rogen Film Casting Non Union Extras!