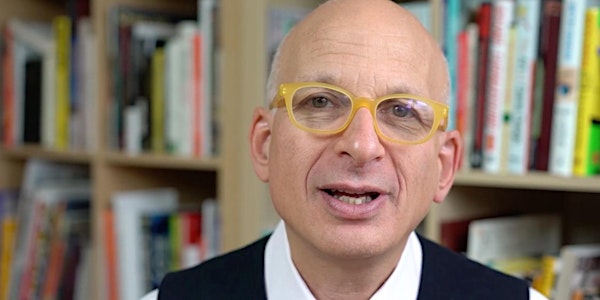 Seth Godin's Leadership Workshop
By Seth Godin & Do You Zoom, Inc.
Date and time
Saturday, January 16, 2016 · 2 - 5pm EST
Location
Online, in a private Slack room
Refund Policy
Contact the organizer to request a refund.
Description
Tickets are no longer on sale, thank you! When we re-run this event, I'll blog it, so please keep your eyes open (my blog is found by googling Seth's blog).
If you already have a ticket, you're probably here because you're not getting our email updates. Yikes.
We are sending instructions via MailChimp and Slack.
You can read the updates here: http://sethgodin.typepad.com/seth_godins_leadership_sp/ Read the bottom post first.
But you will definitely need the Slack invite to join us on Saturday. We are sending it to the email address associated with your Eventbrite account at 9 am on Saturday morning (NY time). If for some reason that's not correct, please email us ASAP! hello@altmba.com is the address.
More important, check your spam and promo folders. Over-eager admins block good email every day.
See you there, and thanks for supporting Plus Acumen and your own development.
Seth
---
---
This is a new way to learn, designed for people who seek to make a difference.
A live online course that students do together, guided by pre-recorded video... using real-time writing and interaction to create change and connection.
A three-hour intensive workshop, with all participants in sync. Start together, finish together, interact.
Like the altMBA, we run this workshop in a private, customized Slack room. But this workshop lasts just three hours, and it's a sprint.
Some learning doesn't easily come from a mere lecture. It comes from engagement. Engagement with others, fellow students, people on the same path as you. And even more important, from self awareness, from writing and speaking about what matters, what you see and what you are capable of.
This intensive workshop is designed to explore what it means to be a leader, and more important, what it means for you to be a leader.
It's designed for anyone who has ever sought to make a difference. For entrepreneurs, middle managers, parents and everyone who has ever needed to stand up and say, "follow me."
There is just over thirty minutes of original video, but far more important are the 120 minutes you will spend on doing the work, writing and connecting. Connecting not only with the video, but with the other students in the course.
Most online courses are done solo, on your own time. This three-hour workshop is different.
Here's how it works: As the workshop unfolds, there are nine sections on various facets of leadership.
First, each section starts off with a video which I've recorded specifically for this course, dropped into the Slack room.
Next, there is an exercise or discussion prompt for you to work on with your group in Slack. You'll answer the question and work on your own writing.
Finally, you'll come together with other participants in Slack to engage on what you've learned via live chat.
The sections:
Leadership is not management

See the end before you begin the journey

Culture defeats everything

Selling the dream

Enrollment

Don't forget rule 6

Authority vs. responsibility

Certain failure

It's personal
After the session is over, you will have a written record of the transformation you've caused in yourself and in others.
100% of our revenue is going to Acumen to help them create more courses for social entrepreneurs and those hoping to make an impact.
We're looking forward to engaging with you.
[NOTE! You will get a further instructions on the confirmation page after purchasing a ticket. You'll also get an invite to the Slack room, from Slack, the morning of the event. Please check your spam folder... you'll need the link to access the course.]
Ticket sales end Friday around noon, New York time. If you're signing up now, please read this first: