We welcome you to one of the most beautiful sites in Tulum, this event will feature an incredible line up at SET Underground's experience.
About this event
SET Underground welcomes you to immerse yourself in a music experience with a limited intimate space to 800 guests.
Come and enjoy this gorgeous site with top shelf liquor in the middle of the jungle and enjoy our magical cenote.
🎧 Line Up A-Z 🎧
Anna Forest ( The Gardens of Babylon / Zapotec Death Poems)
Bob Moses (Domino / Astralwerks)
Damon Jee (Correspondant)
Out of Mind (Outta Limits) 
Red Axes (K7 Records / Life And Death)
Roman Flügel (Innervisions / Kompakt)
In accordance with Tulum's recent mandate, we will require attendees to show a negative test to enter the venue. Any test done 72hs prior to the event is accepted.
There will also be testing onsite available for those who need it.
SET Underground is committed to follow all city health mandates, and these policies are subject to change at any time.
SHUTTLES PICK UP
Elixyr Tulum
Address : Quintana Roo, Av Tulum Entre calles Libra Sur y Géminis Sur, lote 23, mz 07, región 4, 77780 Tulum, Q.R.
https://goo.gl/maps/ZR6A8Jje9oh68pJi6
We have 20 Shuttles Today every 10 mins starting at 9:15pm going til late (when we hit capacity) probably 6am.
You can use one of our Taxis
ALVIN TAXI 848 Cell +52 984 228 3514
VALENTIN TAXI 261 Cell +52 984 168 4015
When?
Saturday, January 15th
10PM until Late
VIP Private Tables & Concierge:
FOR BACKSTAGE TABLES, PRIVATE SHUTTLE AND CONCIERGE SERVICES CONTACT
Valerie +1.845.913.6760 (English / Spanish / French)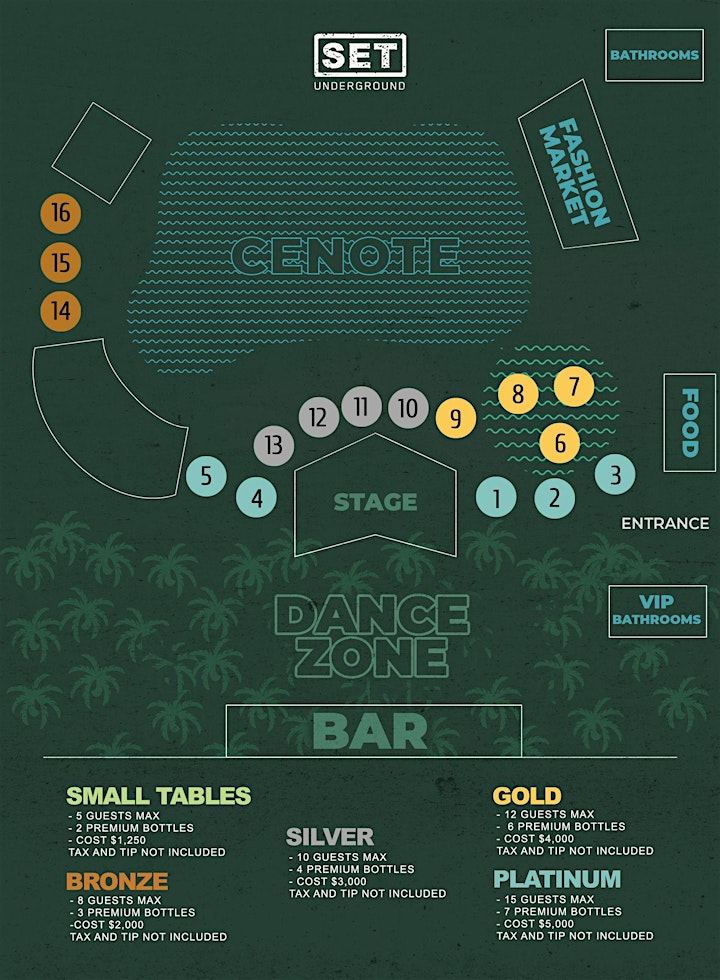 TICKETS & TABLES SALES ARE NON-REFUNDABLE, ALL SALES ARE FINAL.
Cancelation Policy:
I agree that ticket & table sales for this event are NON-REFUNDABLE and all sales are FINAL. By purchasing a ticket or reserving a table, I assume responsibility at my own risk and have no rights to a refund if this event is canceled for any reason including but not restricted to: divine intervention, natural catastrophe, government intervention, new COVID-19 restrictions or personal perspective & evaluations. This event is rain or shine.
Our event is in compliance with all TULUM and local Authorities COVID-19 Guidelines and recommendations.
Everyone must follow TULUM AND MEXICO's guidelines.
Assumption of Risk and Liability Waiver:
While attending the event, you may be exposed to the risk of contracting a communicable disease, including but not limited to COVID-19. While we have put in place preventative measures to reduce the spread of COVID-19, we cannot guarantee that you will not become infected with COVID-19. By attending and/or participating in the event, you assume all such risks related to any illness (including COVID-19), injury or harm and are deemed to be given a full release of any liability to SET UNDERGROUND, City of Tulum, and all associated producers, sponsors, including their directors, officers, employees, and volunteers, to the fullest extent permitted by law.
Organizer of SET Underground's Tulum Cenote Jungle Experience w/ Bob Moses and many more