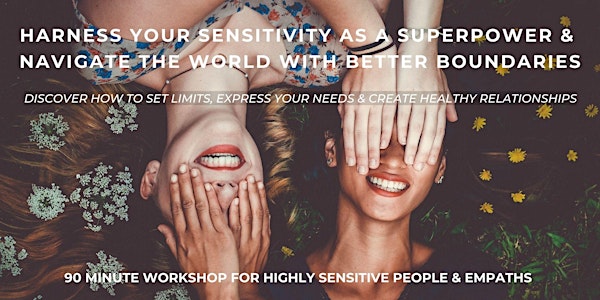 Set Limits, Express Your Needs, and Create Healthy Relationships as an HSP
HARNESS your SENSITIVITY as a SUPERPOWER & navigate your life with HEALTHY BOUNDARIES as an HSP or EMPATH
When and where
Location
Los Altos Virtual Via Zoom Los Altos, CA 94022
About this event
FREE LIVE 90 MINUTE WORKSHOP (VIA ZOOM)
A workshop designed for HIGHLY SENSITIVE PEOPLE & EMPATHS', who for way too long have sacrificed their own needs & desires in relationships and are ready TO RECLAIM their PERSONAL POWER, SPEAK their AUTHENTIC TRUTH & FEEL EMPOWERED in the process.
It's not surprising that you feel PERPETUALLY EXHAUSTED, OVERWHELMED and DEEPLY DISCONNECTED from yourself.
Do you have a hard time trusting your intuition and instead seek external sources to validate your sense of self-worth and belonging?
Do you LOSE yourself in relationships, making it hard to discern, how YOU feel, who YOU are and what YOU want?
Do you put others needs before your own & have a hard time saying no?
Do you deeply desire to create healthy boundaries, but don't know where to begin or how to communicate your needs to others?
HSPs often struggle to set boundaries and yet it is essential for our wellbeing. We experience the world differently and therefore have a specific set of needs that we must prioritize. Without boundaries, we suffer from extreme depletion and often feel resentment in our relationships. Protecting and managing our energy can help us to be the best versions of ourselves and EMPOWERS us to FULLY EXPRESS OUR SENSITIVE SUPERPOWERS.
OVER THE 90 MINUTE WORKSHOP WE WILL DISCUSS:
The importance of creating boundaries, especially as an HSP
Helpful tips on how to CREATE HEALTHY BOUNDARIES
The 7 DIFFERENT TYPES OF BOUNDARIES
How to identify the types of boundaries that you may need to create or strengthen
It takes COURAGE & STRENGTH to set boundaries, but when you have the proper tools and are committed to HONORING YOURSELF and ASSERTING YOUR NEEDS, you will begin to experience more ease and confidence in the process & have the ability to cultivate deeper, more meaningful relationships. In addition, to feeling a greater sense of agency over your life.
I M A G I N E . . .
Feeling SAFE in your relationships because there are CLEAR GUIDELINES and EXPECTATIONS in place, where both parties understand what behaviors are acceptable and what won't be tolerated.
TRUSTING your INTUITION & LISTENING to the WISDOM OF YOUR BODY to inform how you CARE FOR YOURSELF, instead of seeking external validation or approval from others.
allowing yourself PERMISSION TO SAY NO and LETTING GO of feeling responsible for how others may react.
Gaining a greater understanding & awareness of how your past has informed your ability to set and hold healthy boundaries, so you can CONSCIOUSLY change unhealthy patterns and behaviors.
If this is the future you envision for yourself, I look forward to seeing you at this IMMERSIVE AND TRANSFORMATIVE, FREE WORKSHOP!
This is a SAFE & WELCOMING SPACE, to share your unique experience and perspectives. If possible, I suggest leaving your cameras on. When we allow ourselves to be SEEN & WITNESSED in COMMUNITY with other KINDRED SPIRITS, we can more DEEPLY CONNECT to ourselves and to others.
If you're newly on the path of self-discovery and are unsure if you're an HSP, below is a link to a self-test: https://hsperson.com/test/highly-sensitive-test/