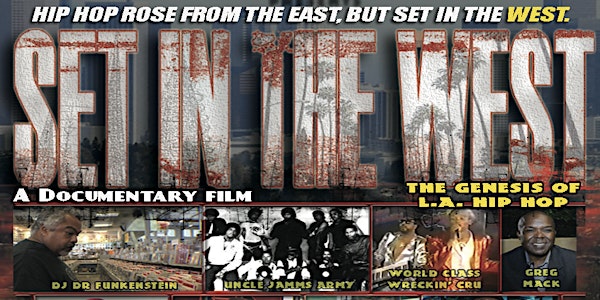 Set In The West Documentary Premiere
When and where
Location
6353 Sunset Blvd Los Angeles, CA 90028
Refund Policy
Refunds up to 7 days before event
Description
WE-FUNK Radio, Wolfgangs Production & Exclusive Info Network is proud to announce the premiere of the official selection of the Rome Independent Prisma Awards & The Aphrodite Film Awards Documentary Set In The West: The Genesis of L.A. Hip Hop taking place Saturday, June 29, 2019, at the Los Angeles Film School in Los Angeles.
Set In The West is a Documentary about the foundation of Hip Hop. It has been rumored for years that Hip Hop's origin was always set in the East and what this documentary does is dispel the rumors and replace a lot of questionable information with facts. Set In The West breaks down the timelines of different events that will alter the beginning of Hip Hop altogether. The documentary's intention is to tell the story of Hip Hop completely. Broaden all and arouse the thoughts of many; artists, writers, and Hip Hop historians, organizations and more. However, one documentary can't condense such a rich culture with much to tell.
The star-studded premiere will feature a screening of the documentary film Set In The West: The Genesis of L.A. Hip Hop, a Q&A hosted by Radio Personality & Host of the "Go Girl" podcast Ashley Caprice with Author & Hip Hop Pioneer Lonzo Williams, "Mack Attack" Greg Mack from the original KDAY, Michael "Disco Daddy" Khalfani, DJ Dr. Funkenstein of Uncle Jamm's Army, DJ Silky D Williams of Secret Sounds and legendary producer from NWA Arabian Prince.
With Hip Hop being global and in every facet of the American culture, this one of a kind project will be seen by Hip Hop enthusiasts, curators and participants of the culture for years to come. The Set In The West documentary series will assist in local educational and enrichment programs for the youth. Some proceeds with go to the Five Points Youth Foundation in Los Angeles, CA & the Rodger Clayton Foundation.