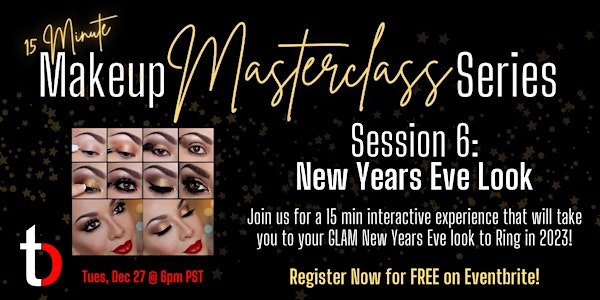 Session Six: 15 Minute Makeup Masterclass Series - Quick NYE Looks!
Introducing our 15 minute Makeup Masterclass Series... A fun & interactive Zoom experience for EVERYONE from makeup beginners to experts!
About this event
Whether you are a beginner and still learning how to apply makeup or you are already an expert yourself... we'd like to introduce and invite you to our Makeup Master Class Series!
Put aside your fears or reservations, grab your makeup and favorite drink... and join our makeup experts every other Tuesday night for a fun and FREE interactive Zoom experience as our experts guide you, step by step, on how to perfect those makeup looks!
Session 6 - 15 Minute New Years Eve Look!
Who has seen images like this and felt like it was IMPOSSIBLE to recreate?!
Who has time to spend hours getting ready for a fun night out?!
Well... we are here to bring you from every day to glam... and we have a makeup expert who is going to bring this look to LIFE in just 15 minutes!
Join us Tuesday December 27th at 6pm PST and we'll bring it to life!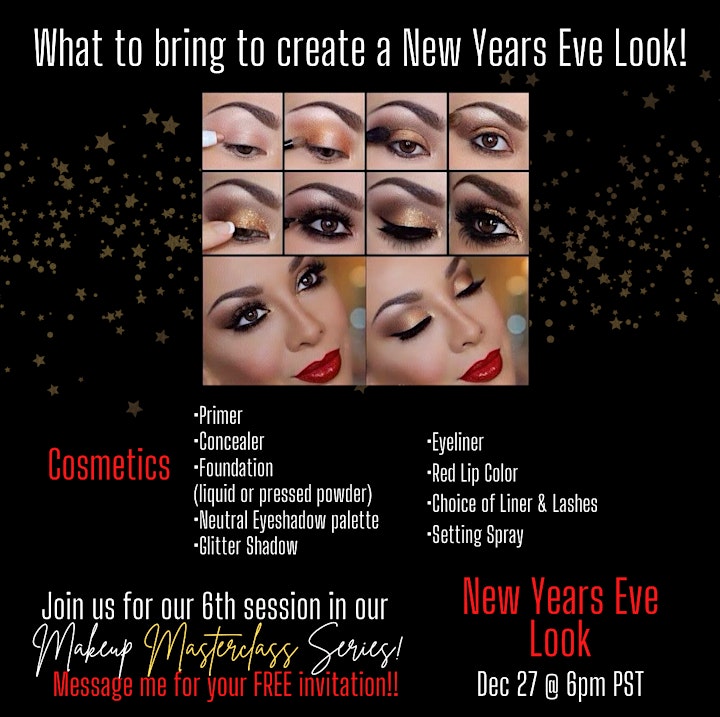 Make sure to register FOR FREE for the series and then simply join us on Zoom every other Tuesday night at 6pm PST starting October 18th by using the Zoom ID 865 2601 6526
Might need to watch a second time or can't make it to the LIVE sessions? That's okay, too!
If you register for the series - we will send you the replay with all the tips and tricks... so you can learn on your own time!
Join us on ZOOM - 865 2601 6526