Session Five:15 Minute Makeup Masterclass Series - All Eye Shapes
Introducing our 15 minute Makeup Masterclass Series... A fun & interactive Zoom experience for EVERYONE from makeup beginners to experts!
About this event
Whether you are a beginner and still learning how to apply makeup or you are already an expert yourself... we'd like to introduce and invite you to our Makeup Master Class Series!
Put aside your fears or reservations, grab your makeup and favorite drink... and join our makeup experts every other Tuesday night for a fun and FREE interactive Zoom experience as our experts guide you, step by step, on how to perfect those makeup looks!
Session 5 - Eye Shadows for ALL Eye Shapes!
We've all been there—lost in a scroll of makeup tips for creating eye makeup trends that we simply can't re-create....
When it comes to applying eye makeup, there's simply no one-size-fits-all rule to applying eye shadow. Eyes come in all shapes and each eye shape is uniquely beautiful!
Knowing your own eye shape can help you determine which looks will bring out the best in your eyes... Do we have your attention?!
Ready to learn?
Our experts will give you quick tips & tricks to learn your eye shape... & then how to make it POP!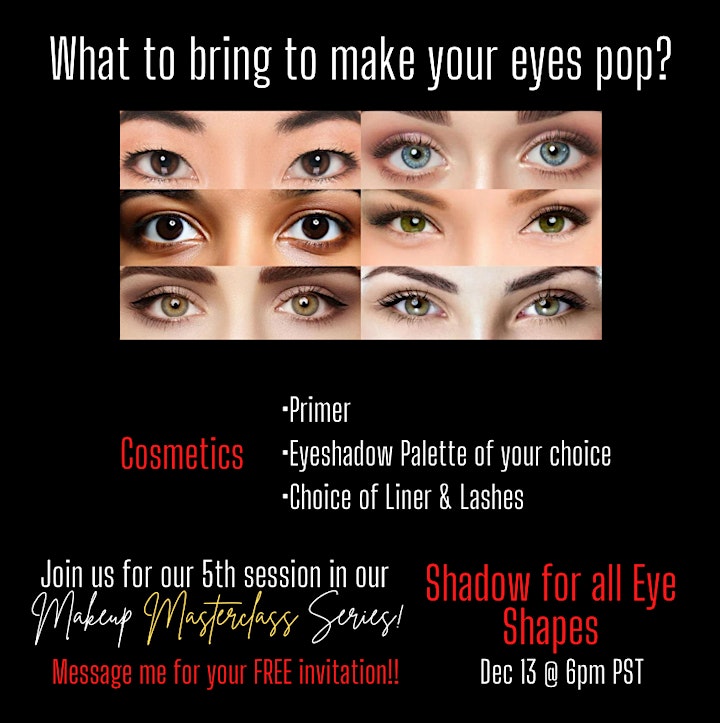 Make sure to register FOR FREE for the series and then simply join us on Zoom every other Tuesday night at 6pm PST starting October 18th by using the Zoom ID 865 2601 6526
Might need to watch a second time or can't make it to the LIVE sessions? That's okay, too!
If you register for the series - we will send you the replay with all the tips and tricks... so you can learn on your own time!
Join us on ZOOM - 865 2601 6526