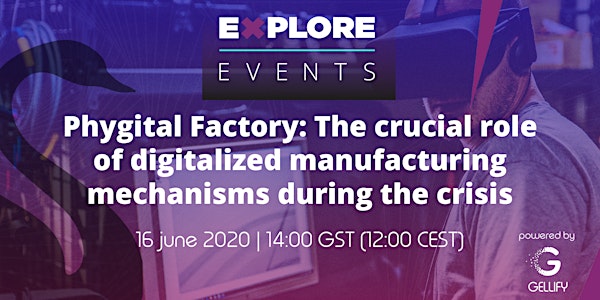 Session 8 – Phygital Factory: The Crucial Role of Digitalized Manufacturing
Future-Proof Your Organization with Black Swan Capabilities
About this event
Hello there,
In response to the global Covid-19 pandemic, GELLIFY is pioneering an EXPLORE Events series: Future-Proof Your Organization with Black Swan Capabilities.
Join us for Session 8, Phygital Factory: The Crucial Role of Digitalized Manufacturing Mechanisms During the Crisis.
Rewind to December, 2019: many manufacturers, like you, were considering how to leverage Industry 4.0 to increase competitive advantage. It was all about driving profitability.
Along came a global pandemic.
Is it time to throw out those plans? Join us to talk about how #i4.0 tech may be the urgent game changer that drives your company to survive in this crucial period. Learn how to quickly integrate digital layers into your physical ecosystem – to build the PHYGITAL FACTORY. Join our free online event, where you'll learn about:
• Industry 4.0 tech domain clusters
• How and where you can affordably apply the tech in manufacturing and beyond
• How to make strategic decisions during uncertain times
• Combining digital and physical ecosystems
• Identifying the right partners for innovative projects
Sign up now! Registration is free, space is limited.
See you there!
Massimo Cannizzo, CEO GELLIFY Middle East
P.S. To sign up for the entire series, click here. Registration closes 1 hour prior to each event.