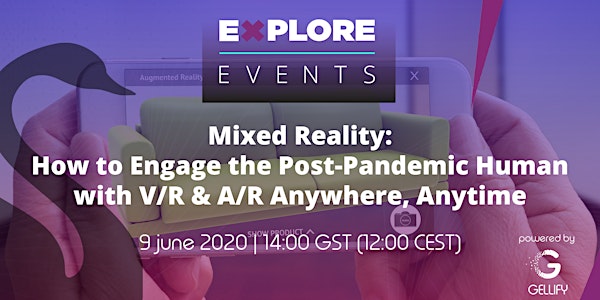 Session 7 - Mixed Reality: How to Engage the Post-Pandemic Human with V/R & A/R Anywhere, Anytime ​
When and where
Location
Online Event https://us02web.zoom.us/webinar/register/WN_O0DZT3hUSs-Z76a2hxdpoQ
Description
Hi there,
In response to the global Covid-19 pandemic, GELLIFY is pioneering an EXPLORE Events initiative:
Future-Proof Your Organization with Black Swan Capabilities

Join us for Session 7 of our 10-part series: Mixed Reality: How to Engage the Post-Pandemic Human with V/R & A/R Anywhere, Anytime ​
The COVID-19 pandemic has forced us to experiment with new ways of living, working and even thinking. We, as professionals, managers, entrepreneurs, families, and community members, finally settled into radically new routines and experiences that mix physical and digital experiences.
Most of the time, the experiences we've adapted are different from those that were designed at the beginning.​ In this moment, businesses are facing a dramatic challenge.
We are now at the intersection of radical changes in consumer behavior and technological disruption, not to mention the shift in our workforces.​
Much like the widespread use of household electronics after the pandemics and wars of the 20th century, we are now witnessing the progressive democratization of augmented and virtual reality devices and applications across social strata.
How will these technologies revolutionize the way we interact with our clients and stakeholders?
Can every kind of business leverage their potential? ​
The answer is yes.
And the challenge is identical to the classic challenge that designers have faced since the beginning: how to ideate, model, and craft experiences that are meaningful and relevant for their users.
As we build a path toward a brighter, post-pandemic future, it will become even more important to start with users' hidden and spoken needs. Uncover how during our online event.​
In this session, we will discuss how to shape better experiences through:​
Technology:

The

most promising use cases

for the

new era

Designing hybrid experiences:

How to mix digital and physical

components to better fulfill customer expectations

Business impact

: How to integrate a phygital perspective into your practice
See you there!
Massimo Canizzo, CEO GELLIFY Middle East
P.S. To sign up for the entire series, click here. Registration closes 1 hour prior to each event.