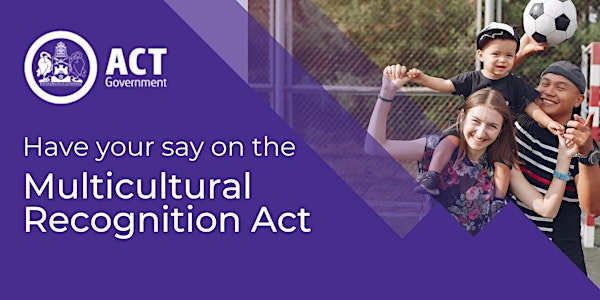 Session #4: Multicultural Recognition Act public consultation
This is the fourth public consultation session on the Multicultural Recognition Bill which is being proposed by the ACT Government.
About this event
The ACT government is developing a Multicultural Recognition Act. Canberra is a rich, diverse and proudly multicultural community, and this new law will further demonstrate the value that the community places on cultural and linguistic diversity.
This session is part of the second round of public consultations on the draft law, and is the last of four sessions to be held during June and July 2022.
Participants will have the chance to learn more about the draft law and to give their views on 3 specific areas:
principles of the Multicultural Charter
functions and membership of the Multicultural Advisory Council
how Government can report to the ACT community on delivery of the Act.
The Multicultural Charter will outline the key principles supporting cultural and linguistic diversity in the ACT, and will guide the government when developing, delivering and evaluating community policy, programs and services.
The Multicultural Advisory Council provides advice to the Minister for Multicultural Affairs and will be a key part of ensuring that Canberra's diverse community is put at the centre of the new law.
The ACT Government also invites you to share your views through leaving a quick comment, completing a survey and/or uploading a submission at:
https://yoursayconversations.act.gov.au/multicultural-recognition-act
You can also send feedback directly to: oma@act.gov.au
The draft law can be found online on the ACT Legislation Register:
https://www.legislation.act.gov.au/ed/db_66116/
This event will be held online via Microsoft Teams.