Session 4: Food Sustainability | Four Conversations
Sales Have Ended
Registrations are closed
Registrations are closed. Thank you for your interest.
Sales Have Ended
Registrations are closed
Registrations are closed. Thank you for your interest.
Join our speakers as they examine food sources and food waste and the challenges to achieving food sustainability.
About this event
One of the most pressing issues of our times is sustainability. Hear from local and international speakers at our annual Four Conversations event as we explore the theme of Sustainability, and discover the changes we can make to support the circular economy. Be a part of conversations that will empower you and uncover new possibilities.
-----
Session 4: Food Sustainability
What impact do our food habits have on our environment in the long run? Join our speakers as they examine food sources and food waste and the challenges to achieving food sustainability.
Presented by
Bjorn Low, Executive Director and Co-Founder, Edible Garden City(Singapore)
Oscar Ekponimo, Founder and CEO, Chowberry Inc (Nigeria)
Moderated by
Kelvin Wong, Co-Founder, Terra SG (Singapore)
-----
Join us for the other 3 sessions:
About the Speakers and Moderator
Bjorn Low is a practicing urban farmer and a social changemaker. He is an Ashoka fellow, a young leader of the World Cities Summit and co-founder of Edible Garden City, an urban farming social enterprise. Bjorn's practice and research focuses on identifying the value that urban agriculture brings to the communities of highly dense and food import dependent cities such as Singapore. He has a keen interest in how the shifts in social ecology and demographic change, and how the rapidly aging population presents a new opportunity for urban care farms to play a bigger role in the rejuvenation of cities.
-----
Named in Time Magazine's list of 10 Next Generation Leaders. Oscar Ekponimo is the Founder of Chowberry Inc, a technology-driven social business that helps retailers cut food waste and improves access to food and nutrition to households facing food poverty.

He is a recipient of the prestigious Rolex Award for Enterprise in Applied Technology for his work on Chowberry which to date has facilitated the distribution of over 1.5 million meals to disadvantaged families facing hunger.

He founded Africa's first trans-disciplinary design lab at the intersection of Arts and Technology called Gallery of Code, which works to develop innovative solutions that affect society in partnership with Ars Electronica Futurelab and is a member of the Advisor Board - Digital Communities to Ars Electronica GmBH Austria. 
Oscar is a Young Convergence Pioneer working on the Convergence project which aims to improve micro-nutrient access to 10 million individuals in the developing world out of the World Frontiers Forum - a consortium of leading scientists from Harvard University and MIT. 

A prolific speaker, he continually shares insight on the innovative use of technology for social change at forums such as the UN Social Good Summit in New York, Yale University African Development Conference in Connecticut USA and most recently in Harvard Business School at the World Frontiers Forum. 
-----
Kelvin Wong is a sustainability advocate and education professional who conducts multiple education outreach in different parts of Asia and enjoys sharing his knowledge and perspectives on sustainability. He is also the co-founder of Terra SG, a regional sustainability driven organisation focused on organising sustainable events, conducting sustainability education, upcycling workshops and managing sustainable galleries and programmes.
An educator and environmentalist by training, Kelvin has the practical know-how and experience of how sustainability projects can be better integrated and aligned to meet the changing demands of sustainability outreach and education.
A passionate individual with a history of engagement and volunteering with multiple environmental organisations, Kelvin was the recipient of Singapore's National Green Leaf Award for his outstanding contributions to environmental protection and preservation in Singapore.
Online Programme/Event Administrative Information
This programme is conducted entirely online. You may access Zoom via the app or using a web browser
Please ensure that you enter a valid email address as you will receive an email with the link to the online programme/event near the day of the programme/event
The link of the programme should not be shared with others
Do ensure you have a strong internet connection. Using your mobile data is not recommended
The National Library Board, Singapore (NLB) reserves the right in its absolute discretion to disqualify or refuse admission to any registrant without any reason and notice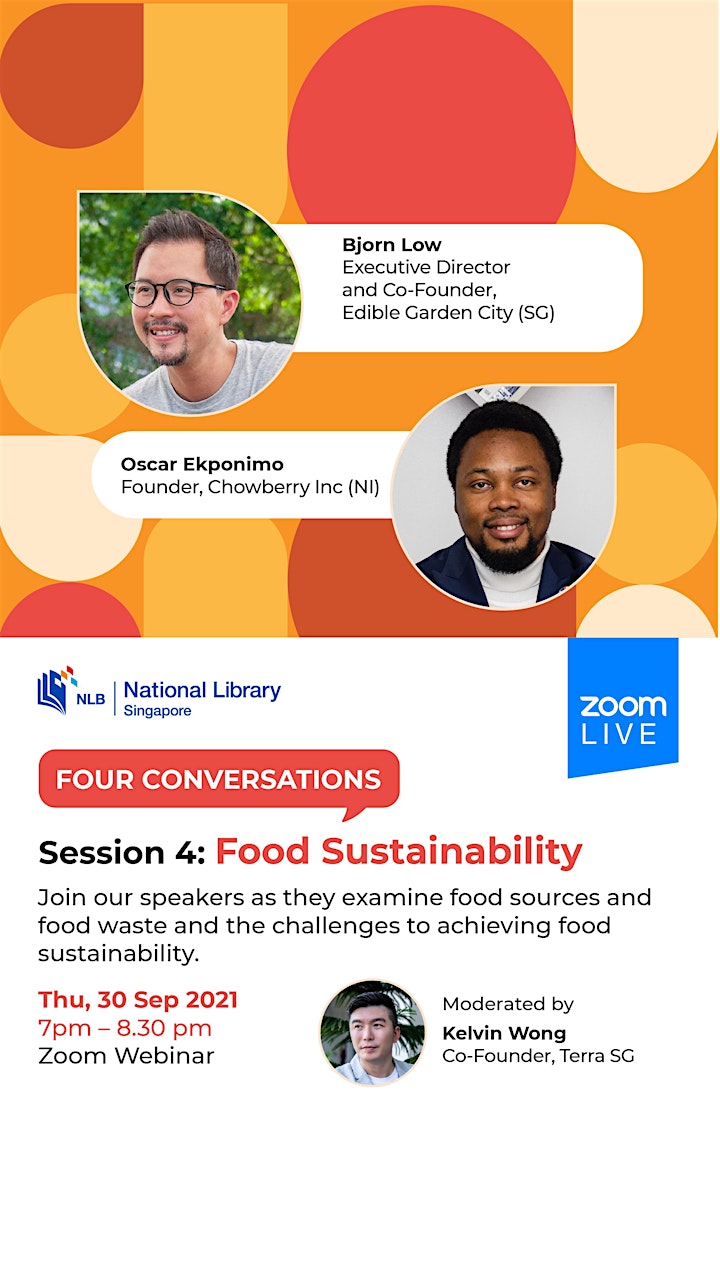 Organiser of Session 4: Food Sustainability | Four Conversations
The National Library Board (NLB) manages a network of 27 public libraries, the National Library and the National Archives of Singapore. NLB promotes reading, learning and information literacy by providing a trusted, accessible and globally-connected library and information service through the National Library and a comprehensive network of Public Libraries.