More than ever, UX professionals need to communicate across teams and across the globe. Sketching can help bridge these distances visually.
About this event
Sorta Sketchy - Improving Communication with Visual Language (Drawing Stuff)
Can you draw a line; straight or otherwise?
Can you draw something kind of box…ish?
Can you draw a shape that is mostly round?
Can you write the alphabet…any alphabet?
If you answered "yes" to any of these questions, YOU GOT THIS!
More than ever, we need to clearly share ideas across town, across cultures, or across the globe. Sketching is a great way to bridge these distances. Visual language in just about any form can cut through confusion and create understanding. If you have or want a career in UX, creating understanding is at the heart of everything you do.
To get the most out of this workshop, you don't need to draw comics like Stan Lee (I sure the hell can't). In THIS workshop you'll leave with a set of basic skills you can use to communicate clearly, quickly, and successfully with items you can find around the house.
What we'll cover:
The unique properties of different media & formats.
A technique toolbox that you'll be using like a boss before the day is out.
The importance and benefits of working publicly.
Methods to change the way you facilitate meetings.
Sketching in person or virtually. Neither is better, just different.
This is an active workshop. You'll be drawing along as we learn some things, draw some stuff, talk about stuff, and play a game.
So…get your favorite pen, pencil, or crayon. Draw on paper, a whiteboard, or your tablet; whatever works for you. It truly doesn't matter.
FAQs
I am not able to make it at the time of the event, can I watch the recording?
Maybe this time does not work for you. Don't worry, you will have access to watch it whenever you want.
The recording will be available for the lifetime of those Vimeo platform for those who purchase a ticket to the webinar. What does that mean? Pay for this valuable content now, and revisit as many times as you like.
How can I access the event?
The webinar link will only be sent to paid attendees. Your webinar link will be sent to you via email confirmation from Eventbrite after you register.
How can I access the recording after the event?
The recording to this webinar in Vimeo will be linked to the email you provide to Eventbrite when you buy your ticket. In other words, make sure you use the same email for Eventbrite that you would like to use to access the video on Vimeo. The video will be made available to paid attendees within two weeks of the event.
What's the refund policy?
We are not able to refund tickets and donations for this event.
Is there networking after this event?
Sorry, no networking for this exclusive webinar.
Agenda
Session 2
6:00 p.m.- 6:10 p.m. (Central time, similar to Chicago and Dallas, USA) - Introduction and announcements for UX Research and Strategy + Service Design Network
6:10 p.m. -10:00 p.m. (Central time) - Workshop + Q&A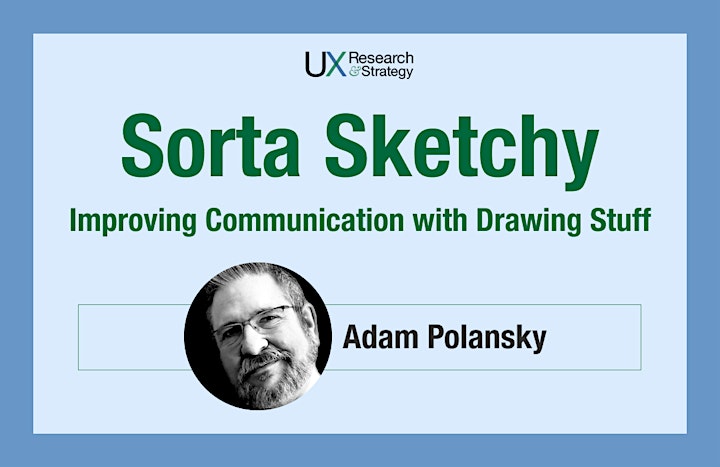 Speaker
Adam Polansky is not a new face in the UX Community having been a regular fixture at events and meet-ups around the world for a long time. His career has taken him from consulting for companies like the first real-time hotel booking site to Radio City Entertainment.
He was the UX Director at Travelocity leading both public-facing and administrative projects. Today he is a Principal with Bottle Rocket Studios, the first corporate app designer partnered with Apple and now setting the standard across Experience Design as part Ogilvy Experience for brands like Hyatt Hotels, Scholastic Books, and Cook Children's Health Care System.
Along the way, he's done some modest publishing, taught UX graduate courses at Kent State, participated in the management and organization of several conferences, run a few workshops and spoken as a keynote in many places around the world. Pretty early-on, he started working with new and seasoned UX professionals to develop evergreen skills like public speaking, facilitation, and networking; all useful skills no matter what you do or how long you do it.
He lives North of Dallas with his family and a cat that sh!ts in the garage.
For more about the cat, keep up with Adam on Twitter as @AdamtheIA.
This event is limited to 25 tickets per session.
Recording will be available for the lifetime of those Vimeo platform for those who purchase a ticket to the webinar.
Host: UX Research and Strategy
UX Research and Strategy is a registered 501c3 group devoted to teaching and exploring topics related to User Experience Research and Strategy. Started by three very talented ladies, Jen Blatz, Lorie Whitaker and Lauren Singer, who saw the need to address the gap in these topics in the local UX community. The hope for this group is to enrich and complement the UX Design community through knowledge sharing and partnership.
Whether you are a researcher, designer, product owner, strategist, content creator, project manager, developer, technologist, marketer, customer experience pro or any other discipline, please join us.
For more information:
Please note that by attending our events, you are granting us permission to potentially use a photograph including you on our social media channels and website. Don't worry, we will try our best to make you look good.
For online events, and for your privacy, if you do not want your name or image potentially appearing on a Zoom screen, please anonymize your name in Zoom and hide your video.
Please note, we are unable to refund donations.
A Zoom link to the webinar will be provided in your confirmation ticket. Scroll down through the email and you will see the zoom link to join.
UXRS a code of conduct. But getting a free or donation ticket to our events, you agree to read and abide by the conditions of this code of conduct. Failing to do so will result in immediate removal from our events and any social media channels. We expect you to be respectful of everyone on our UXRS community.
Thank you for your support!

Date and time
Location
Refund policy
Organizer of Session 2 - Sorta Sketchy: Improving Communication with Visual Language
UX Research and Strategy is a registered 501c3 organization, and was founded by three former co-workers who saw a gap in the user experience meetup market. Based on community feedback, we formed a group that is dedicated to teaching topics in UX research and strategy.
Our goal is to make these topics both approachable and actionable by ensuring our attendees come away with concrete examples of how to confidently implement user experience research and strategy methods in their day-to-day projects and work.