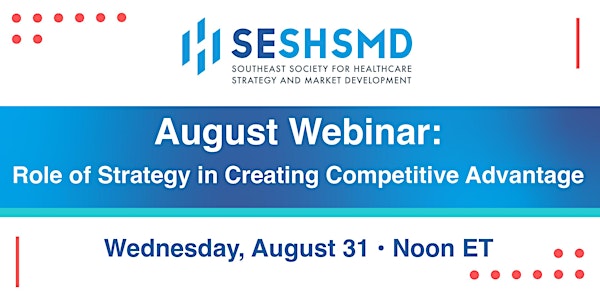 SESHSMD Webinar: Role of Strategy in Creating Competitive Advantage
Join us for our August virtual education event.
About this event
Save the date and secure your seat to join us for our next virtual event!
Register today for the August Education webinar focusing on the role of strategy in creating competitive advantage. Strategy leaders from across the region will be discussing the challenges faced with increasing competitive pressures and ways strategy can drive more value into the organization.
Panelists will include Patrick Phillips, SVP of Business Development/Chief Strategy Officer at Lakeland Regional Health and Melissa Tymchuk at Northeast Georgia Health System. Additional details are being finalized and will be announced soon.
The event is free for members and $25 for non-members. Not sure of your membership status? Email us at info@seshsmd.org and we're happy to check for you!
Ready to join SESHSMD right now and save the $25? Click here!