About this Event
Sesame Summit is an annual event dedicated to the future of technology and the people building connections between startup ecosystems. The program is curated by some of the best Tech events in the world.
In 2020, Sesame Summit will focus on:

In 2019, we welcomed speakers from La French Tech, MHP/Porsche, the European Parliament, Europcar Mobility Group, Wayra, Dawn Capital, Target Global, Atomico, Softbank, GoHub, Twilio, Wirecard, daphni, Siemens, Startupbootcamp, Tech.eu, etc.
We're proud to announce our first speakers of the Summit: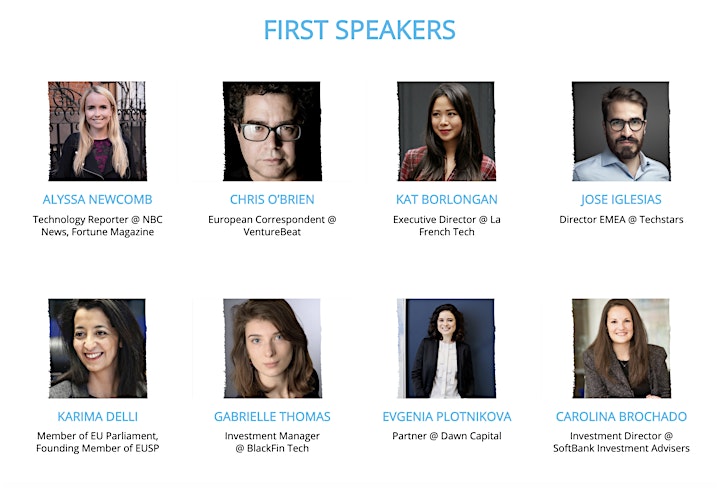 Alyssa Newcomb
Alyssa Newcomb is the Business and Technology Contributor, Event Moderator at NBC News, as well as a reporter at Fortune Magazine.
Based in New York City, she covers issues related to technology and society.
Chris O'Brien
Chris O'Brien is European Correspondent for VentureBeat. Based in France, he covers European startups in sectors such as AI, mobility, IoT, and other transformative technologies.
Kat Borlongan
Kat currently leads the French Tech Mission, a government-led taskforce built to bolster the French Tech ecosystem. She is the co-founder of Five by Five, a boutique consultancy that builds innovation teams inside organizations of all stripes, ranging from the World Bank to Google.
Jose Iglesias
Over a decade ago, Jose Iglesias started working on technology: first, building products, then building bridges between startups, corporates, and governments.
Currently, he leads Startup Programs for TechStars' family of programs in Europe, Middle East and Africa.
Karima Delli
Karima Delli is a member of the European Parliament & Chairwoman of the European Parliament's Transport and Tourism Committee. She was responsible for a report on sustainable urban mobility when the Volkswagen scandal broke out, she gradually specialized on the issue of air pollution and the future of mobility.
She is also the Chairwoman and founding member of the European Startup Prize for mobility.
Gabrielle Thomas
With 7 years as a VC in the startup ecosystem, Gabrielle invested & supported 20+ companies in Europe. As an investment manager at BlackFin, she invests 1-15M€ into FinTech, InsurTech and RegTech startups for their Series A-B.
Evgenia Plotnikova
Evgenia covers exciting B2B companies in software and FinTech across Europe.
As a Partner at Dawn, she led investments into Soldo, Dataiku and ZIVVER amongst others. Prior to joining Dawn, Evgenia has spent multiple years in the venture and private equity.
Carolina Brochado
Working on sourcing, evaluation and due diligence of investments, Carolina is an Investor at SoftBank Group and Partner at Atomico. She is based in London, though, a Brazilian national and fluent Portuguese speaker.
See the full list and more detailed descriptions of our First Speakers