Sesame Flyers Annual Christmas Toy Giveaway
Sesame Flyers Toy Giveaway
About this event
Come join Sesame Flyers in partnership with Morvant Ebonite's USA and Redd World Foundation for our Annual Christmas Toy Giveaway. Sesame Flyers is a non-profit organization that supports families and celebrates culture. We Love a Kid Today and Everyday.
The event will be held on Saturday December 11th, 2021 from 1pm -6pm. The party will feature, Mr. and Mrs. Claus, Live Performances, Goodie Bags and More!
All children must have an RSVP for gift and come at the designated pick up time shown below. If you have children in different age groups pick the time frame of your youngest child. All children must be present and accompanied by an adult at the designated time to receive a toy.
Arrival Time Age of Child
1:00pm - 2:00pm 0-3
2:00pm - 3:00pm 4-6
3:00pm - 4:00pm 7-9
4:00pm - 5:00pm 10-12
5:00pm - 6:00pm Teen
We hope to see you there!
*Please note everyone must wear a mask.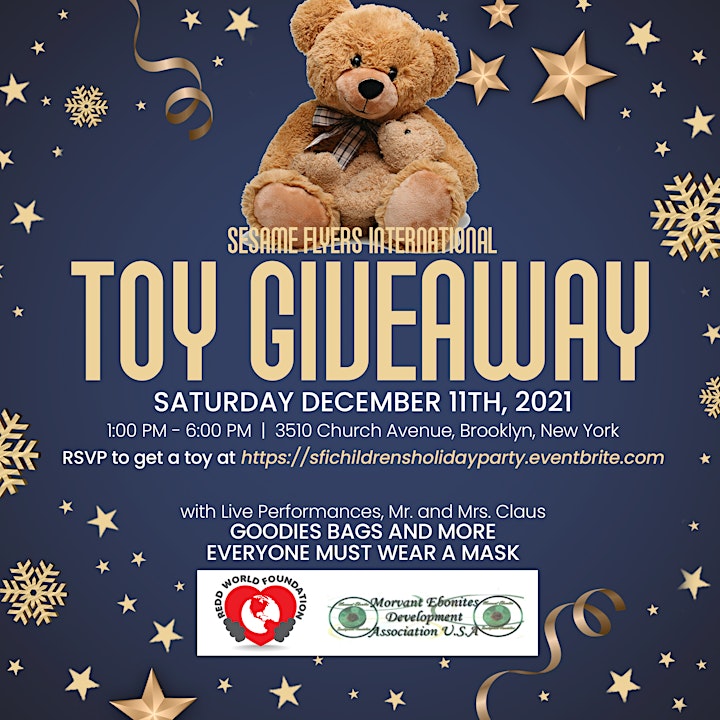 Organizer of Sesame Flyers Annual Christmas Toy Giveaway
Sesame Flyers International Incorporated is a community based not for profit 501 (c) 3 corporation founded in 1983. This thirty-five (35) year old organization functions as a multi service agency which provides a number of services to both youths and adults. Sesame Flyers International consists of both volunteers and professional staff, dedicated to empowering the lives of young people and community.
The organization also takes pride in its origins and cultural Caribbean heritage and has enriched its name from also being known for its participation within the West Indian American Day Carnival festivities such as Kiddie's Carnival, Panorama and Labor Day, which is the adult parade of the band.