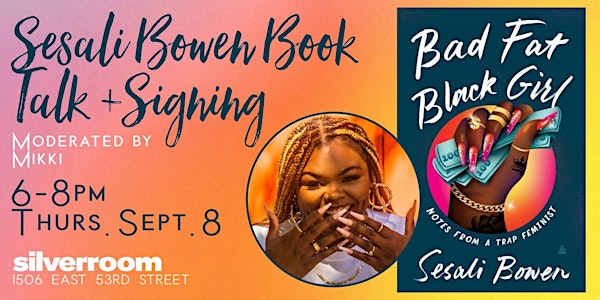 Sesali Bowen Book Signing | Bad Fat Black Girl: Notes from a Trap Feminist
Join us Thursday, September 8th for Book Talk + Signing with author, Sesali Bowen, of Bad Fat Black Girl: Notes from a trap Feminist!
When and where
Location
The Silver Room 1506 East 53rd Street Chicago, IL 60615
About this event
Chicago author, Sesali Bowen, of Bad Fat Black Girl: Notes from a trap Feminist is coming to the Silverroom! Join us for a conversation moderated by Mikki Boom to learn more, followed by book signing for your chance to meet Sesali.
Complimentary light Snacks + Beverages provided.
About the book:
From funny and fearless entertainment journalist Sesali Bowen, Bad Fat Black Girl combines rule-breaking feminist theory, witty and insightful personal memoir, and cutting cultural analysis for an unforgettable, genre-defining debut.
Growing up on the south side of Chicago, Sesali Bowen learned early on how to hustle, stay on her toes, and champion other Black women and femmes as she navigated Blackness, queerness, fatness, friendship, poverty, sex work, and self-love.
Her love of trap music led her to the top of hip-hop journalism, profiling game-changing artists like Megan Thee Stallion, Lizzo, and Janelle Monae. But despite all the beauty, complexity, and general badassery she saw, Bowen found none of that nuance represented in mainstream feminism. Thus, she coined Trap Feminism, a contemporary framework that interrogates where feminism meets today's hip-hop.
Bad Fat Black Girl offers a new, inclusive feminism for the modern world. Weaving together searing personal essay and cultural commentary, Bowen interrogates sexism, fatphobia, and capitalism all within the context of race and hip-hop. In the process, she continues a Black feminist legacy of unmatched sheer determination and creative resilience.
Bad bitches: this one's for you.
About Sesali Bowen:
Sesali Bowen is a multifaceted author and cultural commentator. She is the author of the acclaimed 2021 memoir/manifesto, Bad Fat Black Girl: Notes From A Trap Feminist and the creator, producer, and co-host of Purse First, the only podcast exclusively about female and queer rap. After pivoting from an early career in political advocacy, Sesali stepped into the media world in 2016 and didn't look back. She was an entertainment writer at Refinery29 and one of the architects of Unbothered, their sub-brand for Black women. Then she oversaw the entertainment vertical at NYLON magazine before branching out to write her first book. Her writing has appeared in The New York Times, Cosmopolitan, Glamour, InStyle, and more. She has also appeared on Netflix's Explained and worked on campaigns for Showtime, VH1, and BLK to name a few.
She is currently working on another book project and providing creative strategy for world-class talent at an investment and management firm. Sesali was born and raised on the Southside of Chicago, is a proud Kenwood Bronco, and currently lives in New Jersey.
About Mikki Boom:
Mikki Boom is a Chicago bred visual creative and community curator. She built her brand OkSoBoom based on the belief that Black women all have a story to tell and should be heard, seen, and supported. Mikki is passionate about Black women having safe spaces to exist and has hosted online and offline events including: #OkSoBraid, where Black women could learn the art of french braiding; #OkSoSmoke, which united Black women in the growing cannabis industry; and a networking event under #OkSoLink. Combining her graphic design skills and sharp Twitter fingers, she has also led online mutual aid efforts for Black women in need via #OkSoHelp. Mikki can be found raising her 7 year old daughter and designing in her hometown of Chicago, IL while she works to make #OkSoHelp an official nonprofit.