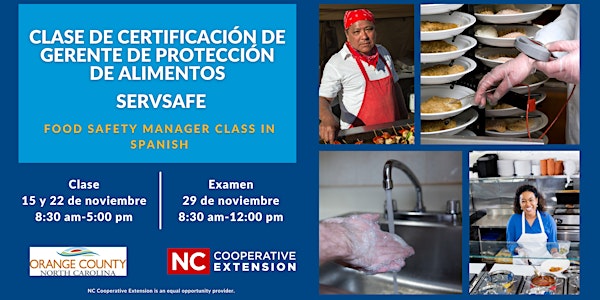 ServSafe: Clase de Certificación de Gerentes de Protección de Alimentos
Esta clase es para todos los que quieran tomar el examen de Certificación de Gerente de Protección de Alimentos. 2 días de clase, 1de examen
About this event
ServSafe es un curso que le prepara para tomar el examen de Certificación de Gerente de Protección de Alimentos.
Ester curso está aprobado por ANSI (American National Standards Institution). El examen que tomará para certificarse cumple con los requisitos del Código de Alimentos Federal del 2017 y del estado Carolina del Norte. De pasar el examen su certificación es válida por 5 años el cualquiera de los estados de los Estados Unidos de América.
NOTA: Hay 2 días de clase (15 y 22 de noviembre) y una mañana para el examen (29 de noviembre).
Este enlace es solamente para personas/compañías que van a pagar con tarjeta de crédito. Si va a pagar con cheque o en efectivo visítenos en este enlace: https://go.ncsu.edu/wh4jvpp
Comuníquese con Ivelisse Colón, Agente de las Ciencias de la Familia y el Consumidor si tiene preguntas acerca de esta clase:
Teléfono: 919-245-2055 Email (correo electrónico): icolond@ncsu.edu
Importante: El Condado de Orange requiere que todas las personas que participen en actividades dentro de un edifico usen mascarillas, puestas correctamente mientras están adentro. Esto es un requisito para su participación en nuestra clase.
Detalles a continuación.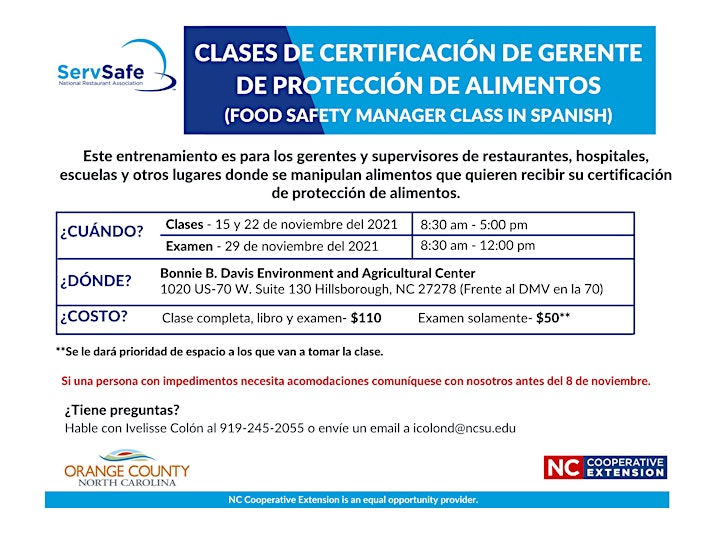 Organizer of ServSafe: Clase de Certificación de Gerentes de Protección de Alimentos
---
NC State University and N.C. A&T State University work in tandem, along with federal, state and local governments, to form a strategic partnership called N.C. Cooperative Extension, which staffs local offices in all 100 counties and with the Eastern Band of Cherokee Indians.
Read our Privacy Statement
N.C. Cooperative Extension prohibits discrimination and harassment on the basis of race, color, national origin, age, sex (including pregnancy), disability, religion, sexual orientation, gender identity, and veteran status.
Individuals with disabilities are invited to request reasonable accommodations to participate in Extension sponsored programs and events. Please contact the county Extension office offering the program at least 14 days prior to the event to make arrangements.