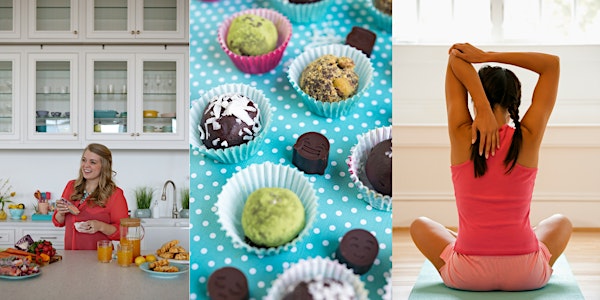 Servino Food + Wellness Series: featuring Lindsey Smith, Food Mood Girl
When and where
Location
Servino Ristorante 9 Main Street Tiburon, CA 94920
Description
Join us at Servino Ristorante for the first event in our Food + Wellness Series, featuring Lindsey Smith from Food Mood Girl. Every attendee will get a complimentary signed copy of Lindsey's latest book, Eat Your Feelings, as well as enjoy a fitness and wellness activity and lunch at Servino.
Special Guests: Brooke Wilkerson - Coffee + Chaos Blog, Whitney Cicero - The New Stepford, Tessa Mini - BareHealth, Mallory McEligot - Vine Living, Midori Verity, and more!

9:00am Check-in
10:00am Hosted by The Ranch and led by Nicole Klemas from NPK Yoga, you will hike up to the top of Old Saint Hilary's Open Space Preserve, for a relaxing yoga session. Water and Snacks will be provided at the top of the mountain.
12:00pm Return to Servino for lunch and presentation from Lindsey Smith
3:00pm Event concludes
Lindsey Smith is a nationally recognized author, health coach, speaker, wellness icon, and the blogger behind Food Mood Girl. Best known for her books, Junk Foods & Junk Moods and Food Guilt No More, Lindsey has reached thousands of people looking to enhance their mood, decrease their anxiety, and love themselves just a little bit more. Lindsey currently resides in Pittsburgh, Pennsylvania.
The
Food Mood Girl
shows how you can transform your lifestyle by learning from your cravings and using mood boosting ingredients every day in this humorous, lighthearted take on your typical diet book. With recipes like Cookie Dough Contraband (just like eating cookie batter, without the fear or guilt!) and a Peanut Butter & Jelly Shake (which tastes like the childhood classic), Lindsey Smith shares ways to eat healthy foods based on what people tend to crave the most during heightened emotional states, introducing recipes with crunchy, creamy, sweet, and salty themes.
Nicole Klemas
is deeply inspired when she gets to take her practice off the mat and into the outdoors, helping her students to develop supple bodies and quiet minds in the fresh air and sunshine of Northern California. Lindsey completed a 200-hour certification with Bodhi Yoga Academy in Koh Phagnan, Thailand in 2016, and is an avid marathoner and duathlete.