Serving is the New Selling

Monday, April 22, 2019 from 8:30 AM to 4:00 PM (PDT)
Event Details
Serving is the New Selling!
Stop selling. Be their expert, and clients will sell themselves. Sales are no longer about aggression and tenacity, now they're about customer service and the fit, then, the client will sell them self. If you have the product or service they want, if the fit is there, there is nothing to sell, no need to be aggressive.
Instead, put the focus on revenue generation. That's right, how much money do you want to bring in?
How many new clients do you want this month, this quarter, this year? How many can you realistically service without compromising quality? Are you picking your low-hanging fruit, or leaving money on the table? Are you selling on value and never discounting your rate?
There are five categories for increasing revenues, which should you focus on now vs later? 
There are a gazillion ways to market your product or service: social media, videos, ads, newsletters, blogs, etc.? Which are right for your company? Yelp reviews and Twitter aren't for everyone. 
How do your ideal clients want to buy from you? Do you know? 
If you are going to let prospects sell themselves, then you need to be where they want you to be, you need to make it as easy as possible for them to work with you, and you need to be customer-service focused. The good news is, it's easier than you think!
In the morning workshop you'll learn:
The five foundational ways to increase revenues, and which is right for your company.
How to match your product or service with the best marketing options.
How to sell on value, not on price. It's easier than you may think - and it's also a powerful way to establish long-term relationships with clients. 
How to attract Ideal Clients - not just any clients, but the kind you really want, at the profit margin you desire. 
How to line up enough prospects year round for consistent cash flow! It's time to forecast with accuracy, and control your results. 
The latest and most powerful opening and closing techniques – one of my most impactful segments! 
Learn how to tap your natural strengths and play to your best self. No need to sell like I do, or some other powerhouse sales professional.
Follow-up is everything - learn how to make it effortless with an easy to use sales funnel. It works with your CRM of choice.
Male - female – LGBTQ+ - do you know the differences in their buying styles? Do you adjust your sales technique to satisfy them? Are you tapping this TRILLION dollar demographic? They want to do business with like-minded companies.
For these topics and more, join the morning workshop! 
Feel free to stay for the afternoon workshop, too. This month April Bell will talk about values-based storytelling. Given storytelling is a powerful sales tool, and video is the number one performing style of multimedia out there, you'd be wise to attend the afternoon session. 
---
In the afternoon workshop you'll learn:


VALUES-BASED STORYTELLING

 
When You Tell Your Story, Will It Be An Interesting One?
---
MY LIFE IN PARAGRAPHS is an engaging seven-step process that enables you to tell your stories in a powerful way.
COMMUNICATE your hard-won wisdom through values-based storytelling.
DISCOVER which values you hold at your core, the stories behind them, and how that can make an effortless impact on others; personally and professionally.
In this 90-minute presentation, you will easily discover challenges you've overcome, the learning those challenges have offered, and how they've shaped who you are today.
You'll gain clarity around how your core values were formed, and how those values influence the decisions you've made in the past, and in the present.

You'll have fun reflecting on meaningful moments, people, and turning points.

You'll increase your awareness of not only your own greatness, but also understand more fully how you've shown up for others, and who has shown up for you.

You'll strengthen the ties that bind your closest relationships, all while witnessing your life and experiences in a way you may not have otherwise.
If you're interested in taking a meaningful journey that is a gift to yourself, the people in your life, and even your future generations, you wont want to miss this session!
90-minute interactive presentation with discussion to follow
---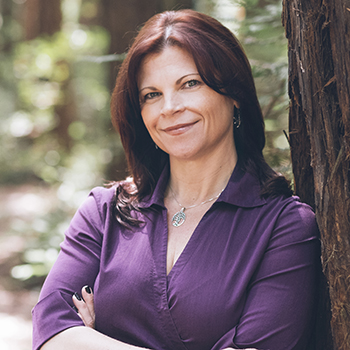 April Bell, Founder at Tree of Life Legacies, is a professional interviewer and video producer who is passionate about values-based storytelling. She gently guides people to tap into the essence of who they truly are, capturing that on video.
The daughter of a mobile tech pioneer and an artist, April is enlivened by assisting others in creatively communicating stories through technology. Trained in psychology, she has acute listening skills and is a natural at deeply connecting with people, helping them share the narratives which matter to them most, be it life stories, the origin story of a business, or glowing testimonials. Her clients include businesses, families, and organizations who value the power of story.
She is an innovator in bringing video storytelling via an interview-style format to the masses through the co-creation and launch of StoryCatcher for iOS in 2013.
April also brings the transformative gift of values-based storytelling to the world at large through speaking, workshops, and engaging online training courses.
For fun she enjoys sailing on the San Francisco Bay, trekking in the High Sierra, and exploring the mysteries of the human spirit and condition. Ultimately, it is our stories that connect and bind us, today and into the future.
What's your story?
Limited Seating - Register now
Networking and Registration 8:30-9am
Morning Session Start time: 9am – the opening story sets the stage for the entire class, so get your seat on time!  End time is 12pm – they'll be a break mid-way through the class.
Afternoon Session Start time: 1:00pm - End time is 2:30pm - stay for discussion till 3pm if desired.
Lunch Break - Feel free to bring your own lunch, or order lunch in advance and it will be delivered, delivery option will be sent after you register.
FAQs
Are there ID or minimum age requirements to enter the event?
NO ID needed, 18 years or older
What are my transportation/parking options for getting to and from the event?
Public transportation: Nile Hall is walking distance – Just three blocks from 12th Street BART 
Driving: Use City Center West Garage, it's across the street from Preservation Park - entry is available from Jefferson St or Martin Luther King Jr Way
What should I bring to the event?
Just yourself – we'll provide healthy snacks, water, tea, and coffee.
Where can I contact the organizer with any questions?
organizer@stonebanks.net 
What's the refund policy?
No refunds. 
Save This Event
When & Where

Preservation Park: Nile Hall
Preservation Park Way
668 - 13th Street
Oakland, CA 94612


Monday, April 22, 2019 from 8:30 AM to 4:00 PM (PDT)
Add to my calendar
Organizer
Beatrice is a Sales Management Consultant who believes real success is about taking a look at what-works and what-doesn't-work on a company's sales team, getting egos out of the way and under-performers off the team. Raising the bar and reaping the benefits, leading by example using straightforward communication and bleeding edge technology mixed with a powerhouse work ethic. Beatrice loves creating new revenue streams for her clients and is a natural top performer in B2B sales and leadership. 
http://www.linkedin.com/in/beatricestonebanks/