Description
Join this one-day crash course where you'll learn the skills and tools you need to plan and execute your own Service Design Sprints.
---


Most approaches to Design Sprint are inherited from good-old Design thinking methodologies which originated at Bay Area design firms. Those are excellent practices, but the problem is they have a high product-driven inclination and make no distinction between products and services. Services are different animals than products.
This hands-on crash course where you learn to focus on services and see products as mere avatars, vessels for the service they provide. You will learn about the M.V.S Model, that is a service design-based sprint methodology.

Created in Silicon Valley, and successfully adopted by Fortune 500 companies. This sprint is a lean process for tackling decisive business challenges through hands-on processes and exercises, with a service experience approach.
Key takeaways
Design solutions as services, not products.
Learn the anatomy of a service design sprint, extreme users, M.V.S canvases and much more...
Boost innovation within your team or with your clients, combining Lean Startup, Design Thinking & Service Design.
Learn to prototype and test your own MVS (Minimum Valuable Service) with real users in real time.
launch desirable service experiences for your clients saving time and reducing the risk of failure.
Become a service design sprint master
We recommend this course to:
Service Designers, Design Thinkers, Product Owners, Project Managers, Design Leads, Innovation Leads
Agenda
Time Machine
Sprint ethnography
The hero profile
lunch
Swap
The Service Principles
The M.V.S Journey
Build the backlog

"Due to the nature of this course, it requires a minimum of participants (6) enrolled up to (7) days before the event start date. This ensures the quality of the bootcamp. In this case, attendees will receive the refund of the booking"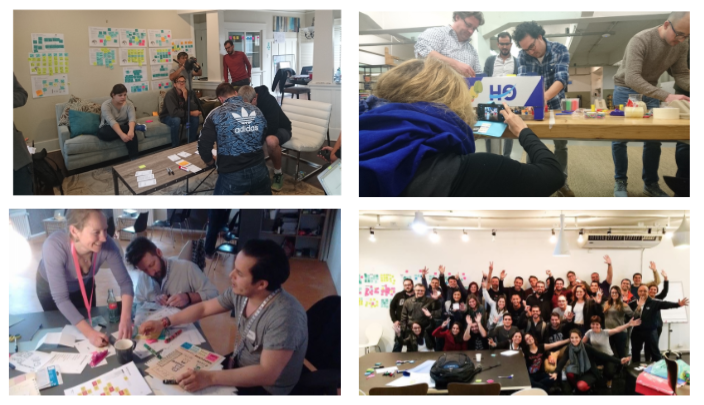 We are an Innovation & Design studio based in Amsterdam & Bogota.
We do Innovation training on Design sprints, Innovation strategy & Human-centered design for corporates and startups. We design services, platforms & strategies to make your business future-proof and embrace digital transformation. We have helped Fortune 500 companies, startups in Silicon Valley, the Netherlands and Incubators in Europe and Latin America.