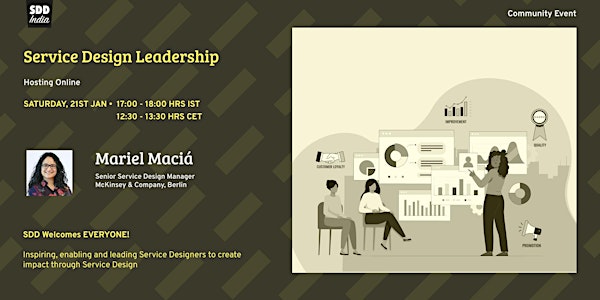 Service Design Leadership
Inspiring, enabling and leading Service Designers to create impact through Service Design
About this event
As the service design practice evolves and matures, Service Design Leadership plays a crucial role in enabling the implementation and scale-up of services end to end and the growth of service designers. The more service designers are embedded in teams, the more in-house service design teams grow in size and impact; questions like what is the specific role of service design, the collaboration model with other practices, what kind of service designer we would like to be and what type of leader we strive to be, become more relevant.
In this session, we have the pleasure of welcoming an experienced service design leader with a passionate vision and hands-on experience in different areas of design in different parts of the world. She will share some learnings, experiences and thoughts about the importance of setting growth goals as service designers, establishing our personal brand as leads and leaders and consistently positioning the service design value in every step of our career.
Event Details:
Date: 21st Jan 2023
Time: Saturday, 21st JAN • 17:00 - 18:00 hrs IST / 12:30 - 13:30 hrs CET
Speaker:
Mariel Maciá
Mariel studied Media Design in Argentina and specialised in Film Direction in Spain. When YouTube was new, she directed a short film that got 1 mm views – quite rare then! This opened the door to work in digital marketing for her. When technology revolutionized media and design thinking revolutionized business, she discovered her passion for human-centered design.
She joined the Innovation Hub of an energy company in Germany to support start-ups by bringing the human perspective into innovation projects connected with new technologies.
Moving to her next opportunity, she embraced the challenge of evangelizing and building the service design practice in one of the market leaders' marketing agencies in Germany while leading product design and cultural transformation projects and working with global clients.
In 2020, Mariel joined McKinsey & Company. As a Senior Service Design Manager, she leads interdisciplinary teams to design and implement a global function's people, processes and technological transformation. At the same time, she empowers service designers to generate impact, grow and bring the best of themselves to work.
Who is this session for?
Aspiring, Junior, Senior, Lead and Principal Service designers, Innovation, Customer, Employee and User Experience managers, Agile coaches, Product Owners and Managers.