Description
Calling all camp families, volunteers, and supporters! You're invited to attend the fourth annual "Service Day: Give Back to Camp Goodtimes" event designed to help us help camp be a better place for this summer.
Please join us to not only give back to camp, but to mix and mingle with fellow camp families and volunteers while you get your DYI on (who doesn't love working with tools). It's a great event for families and individuals, as well as young people looking to complete volunteer hours for schools and clubs.
What: Volunteer your time to spruce things up, fix things, make improvements, and have lunch on Camp Burton
When: Sunday, May 5, 2019 (happy Cinco de Mayo!)
Location: Camp Burton (the facility where Camp Goodtimes is held); on Vashon Island
Times: To accommodate everyone's schedule, whether you're an early riser or need to travel a distance to get here, we have multiple time slots available. Please note: this schedule has been coordinated around both Fauntleroy and Pt. Defiance ferry schedules.
10:00 a.m.–1:30 p.m. (includes lunch at 12:30)

12:30–4:00 p.m. (includes lunch at 12:30)

10:00 a.m.–4:00 p.m. (includes lunch at 12:30)
Projects: There will be something for everyone, including all skill levels—just bring your can-do attitude, a smile, tools and implements if you have them, and a willingness to get dirty. There are numerous projects around camp that need your help getting accomplished.
Sample tasks from previous years included: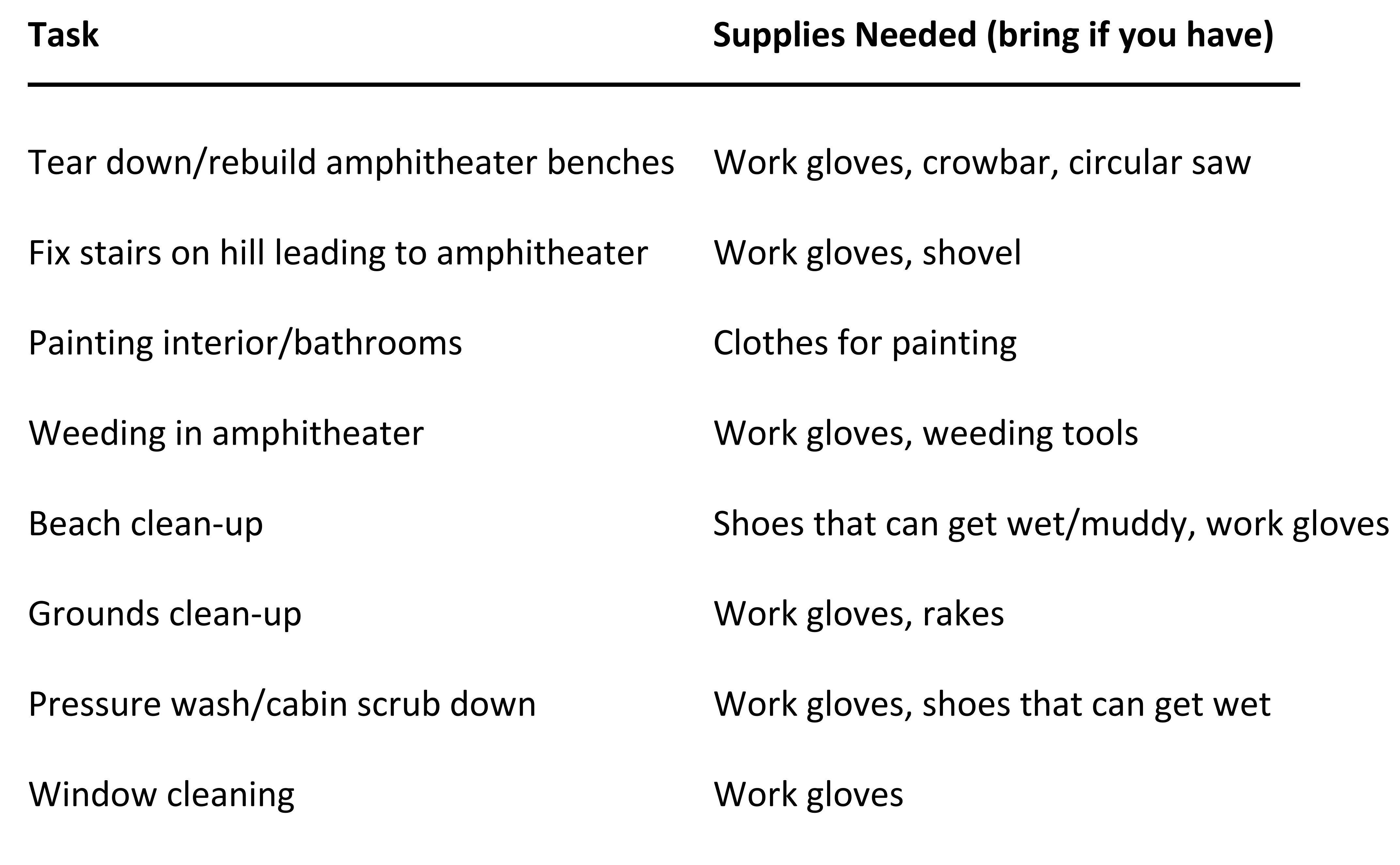 RSVP: Interested in attending? Please register using this webpage (green "Register" button) by noon on May 2. As lunch will be provided, we need a final head count by that day.
I hope you can join us. Reuniting with campers, volunteers, and families is a fun way to get revved up for this year's camp season. Grab your work gloves and your desire to give back and meet up with us on Vashon on May 5!