Description
In this

intensive 2-day course you will learn the basics and beyond of using AWS Lambda and how it fits within the serverless landscape. Also, you will learn how to leverage other AWS services alongside Lambda.

When you're finished with this course, you will have a foundational knowledge of AWS Lambda and other AWS Services!
Serverless computing is fast becoming the way modern applications are created and deployed. Serverless technology allows you to build and run application services without having to worry about the details of machine provisioning or managing scale. Everything required to keep an application's services online 24/7 to meet any capacity demand is done for you behind the scenes. Your primary concerns are the algorithms and data structures that are special to the application services you are building.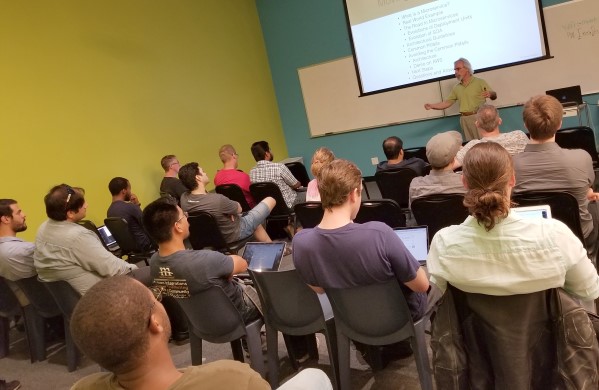 What You will Learn:
How to implement logging using CloudWatch

How to program in a serverless environment using AWS Lambda

How to design and create an API that can be used by desktop and mobile applications using API Gateway

How to combine AWS Lambda and API Gateway to implement API intelligence

How to integrate AWS DynamoDB database service with AWS Lambda to store data

How to use AWS Simple Notification Service and Simple Queue Service to create event driven applications
Creating software that runs in the serverless environment requires a new way of thinking, both in terms of application development and testing. The goal of this 2-day workshop is to provide developers with the essential knowledge and skills required to work in the world of modern, serverless, application development.
Using a combination of demonstrations and hands-on labs, you will learn how to use the more popular Amazon Web Services to create serverless applications that are developed, deployed and used in the AWS cloud infrastructure.


Audience
This course is designed for working developers. Thus, having experience with professional programming is useful, particularly during the hands-on working sessions. Each developer is expected to have an account on AWS. That account will be used extensively in the hands-on sessions when practicing the techniques learned during the demos.


About the Instructor
Bob Reselman is an experienced, hands-on software architect involved in the architecture, design, and implementation of Microservices, AWS, service-oriented architectures, and distributed systems. He has been in the software industry for over 20 years and has significant experience and expertise in application, integration, and enterprise architecture.