Get your ticket to ride this rollercoaster of a workshop. It's your turn to facilitate serious games to get people excited for change!
About this event
In this workshop you will explore and experiment with serious games, gamified activities and energizers. By the end of the day you know what defines a serious game and how to properly facilitate and debrief them. You'll go home with actual serious games that you can put into practice the next day. You'll also be able to mix and match your own recipe to help your team(s) and organization become more excited for change.
Take-aways
Experience and understand the learning ladder; when to choose for a presentation, a serious game, or something in between to get your learning across
Know which 7 elements define a serious game and learn to recognize them
Experiment with multiple serious games yourself and know where to find more
Understand that a serious game is an excuse to debrief, as that is where the neural connections are created
Use playful and safe metaphors to reflect on team dynamics
Learn how to become a better facilitator in general
Create safe experiments to help people get excited to change
Ticket prices includes lunch, snacks and drinks during the workshop.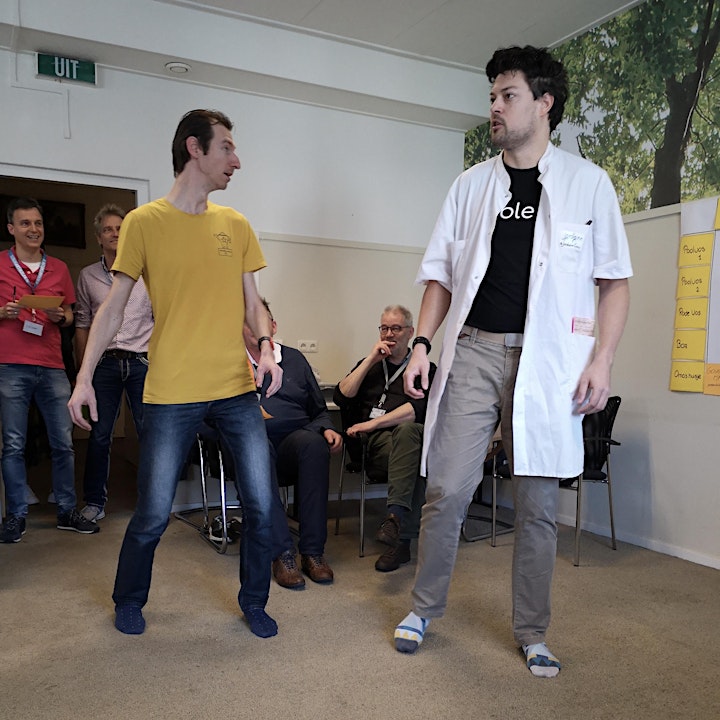 Brought to you by
From the geeks that discovered Happy Salmon at the biggest board game fair and introduced it into the agile community.
From the geeks that hacked existing games like Black Stories and StoryCubes to add value in a business context.
From the geeks that elevated making dad jokes into an art.
We bring you this next level workshop to seduce people into change.
Organizer of Serious Game Facilitator workshop
For many years Eddy Bruin & Jordann Gross have been using serious games and learning metaphors to help teams and organizations embrace change.  
They are convinced that learning by doing builds the strongest retention, so their workshops will surely include experiencing. You'll understand how experiments need to be safe to fail. Serious games simulate a psychological safe version of reality, where one can try out multiple variations of decisions or behavior.
Putting their own beliefs into play, you'll not only walk away with theoretical, but also as much practical experience as fits in a workshop. This will prepare you to put things into practice the following day.